Open for two years as of February, the Aloft New Orleans was one of many adaptive reuse projects planned by Starwood Hotels and Resorts Worldwide. Located on the corner of Baronne and Gravier downtown, the 30-story office building originally built in 1962 has been transformed into a mixed-use complex featuring 188 loft-like rooms and an atmosphere aimed at the millennial traveler. The Aloft Hotel New Orleans was one of the first of its kind in the city and set off a domino effect, inspiring an explosion of tech-forward, boutique hotels in the Crescent City.
In addition to large, loft-like rooms with modern art, platform beds and ergonomic workstations, the Aloft Hotel also features free wi-fi and 42-inch LCD TVs. Guests have 24-hours-a-day and 7-days-a-week access to Re:fuel, a light, quick fix for a hungry belly and to work off those extra pounds earned through beignets and ettouffee, and the hotel gym where you can "sprint, stretch and lift" to your heart's content. Aloft New Orleans has a gorgeous rooftop pool for laps or lazing in the sun and also offers a bike share program through a company called Zagster where guests can rent out bikes for $24 a day through a mobile app.
Because no one likes to leave home without their pets in tow, Aloft New Orleans features an Arf Program that caters to travelers and their four-footed companions. The hotel is so pet-friendly (dogs up to 40 lbs) that there is no required deposit or extra charge to bring along your best friend. Plus, Aloft also provides dog beds, in-room water bowls, toys and "woof-alicious" treats so that you won't have to worry about packing extra.
Because lowering your carbon footprint is the goal of every millennial, Aloft Hotel provides rewards to guests who decide to "Make A Green Choice" during their stay. As a part of their green initiatives program, the hotel gives $5 vouchers to Re:fuel by Aloft, W XYZ Bar or 250 Starwood Preferred Guest Starpoints for each night a guest declines housekeeping.
For guests not looking to stray too far for a night on the town, Aloft New Orleans offers WXYZ Bar. With an urban-influenced design, well-crafted cocktails and live music, WXYZ has a comfortable and cool atmosphere and a tasty menu with small bites so you can keep the party going. The bar's live music repertoire includes musicians like Alexis & the Samurai, Kathryn Rose-Wood, Gravy, Andrew Duhon, Cactus Thief and Motel Radio.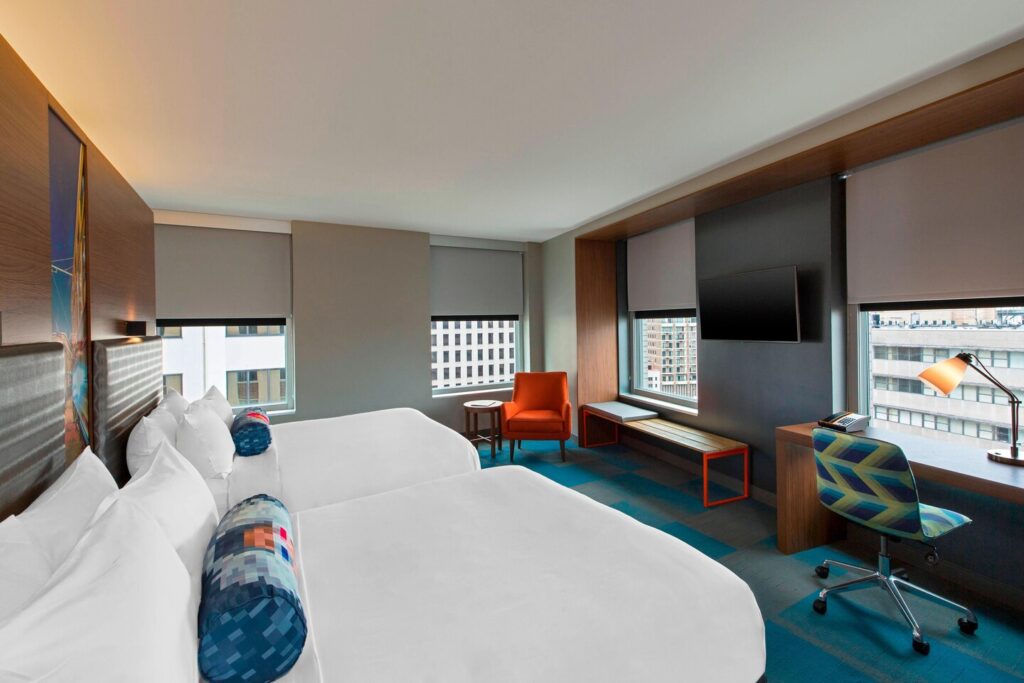 Along with the Aloft Hotel, the space also incorporates a 192-apartment complex dubbed The Strand with completely separate amenities and offerings from the hotel. Dubbed "luxury apartments" the living spaces at The Strand has stunning views of the French Quarter and the Mississippi River, a controlled-access entrance, and a one-of-a-kind above-deck pool with in-water lounge areas and an outdoor kitchen. Amenities at The Strand also include a resident car-sharing program, 24-hour emergency maintenance services, online rent payment and an on-site private pet park.
*Article originally published in the March 2017 issue of New Orleans Living Magazine