I'm not the superstitious type. I do love ghost stories and checking my horoscope, but I don't knock on wood or throw spilled salt over my left shoulder. All the same, I can't help believing some restaurant locations are "cursed." It could be due to all sorts of things, from a lack of parking and less-than-stellar food to a dishonest purveyor oozing bad vibes that seep into the floor boards and come back out through the air conditioning.
In New Orleans, there are several buildings where impending doom seems to hang over it like a dark cloud. Off the top of my head, I can think of three such spots; 709 St. Charles Avenue, 7457 St. Charles Avenue and 8400 Oak Street. Two weeks ago chef Marcus Jacobs and Caitlin Carney, the brilliance behind Broad Street success Marjie's Grill, opened Seafood Sally's at 8400 Oak Street.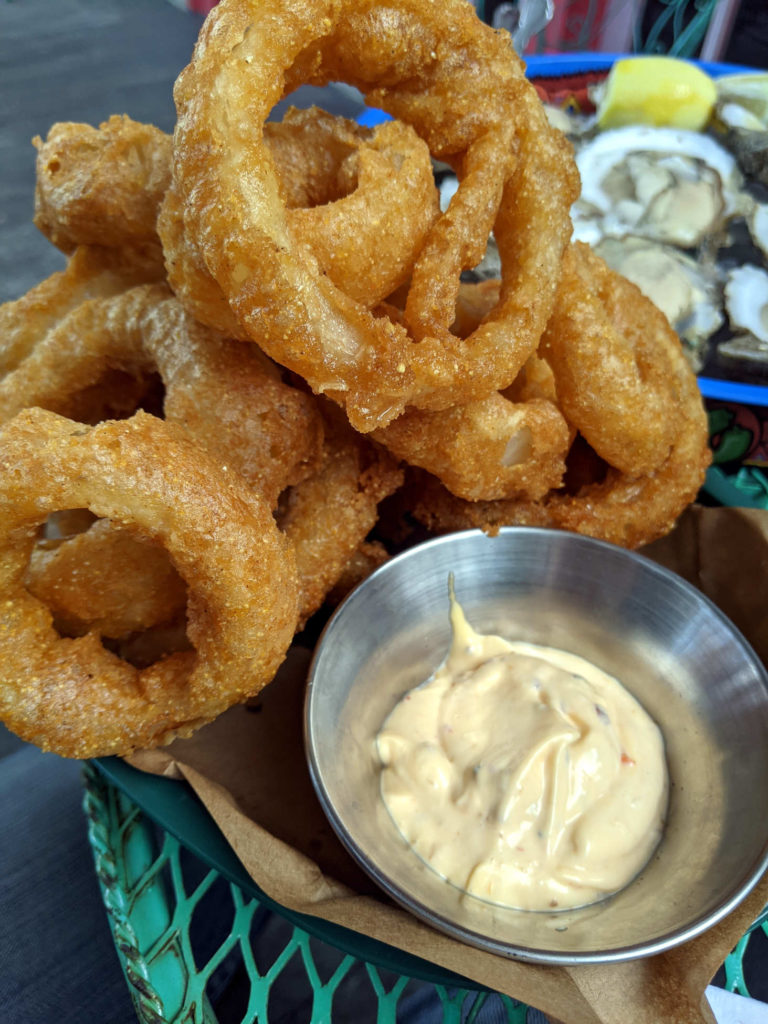 For over 10 years I lived right around the corner from that spot on Oak and Cambronne, and during that time it has been home to Asian Cajun Bistro, Squeal BBQ, and La Casita Taqueria. Squeal had a pretty good run, but overall it seems like a pretty short span for the hefty financial investment involved in opening a restaurant. Although the location seems like a no-go, I have high hopes Seafood Sally's will break the curse.
In support of their efforts, and because their food is just so damn good, John and I hit it up this past weekend, even though they're still getting the pots dirty. We went for an early bird dinner at 5:15 pm and were able to score a two-top on the porch. Instead of cocktails, we opted for a couple of iced teas and reminisced about our old neighborhood before the food came flooding out of the kitchen.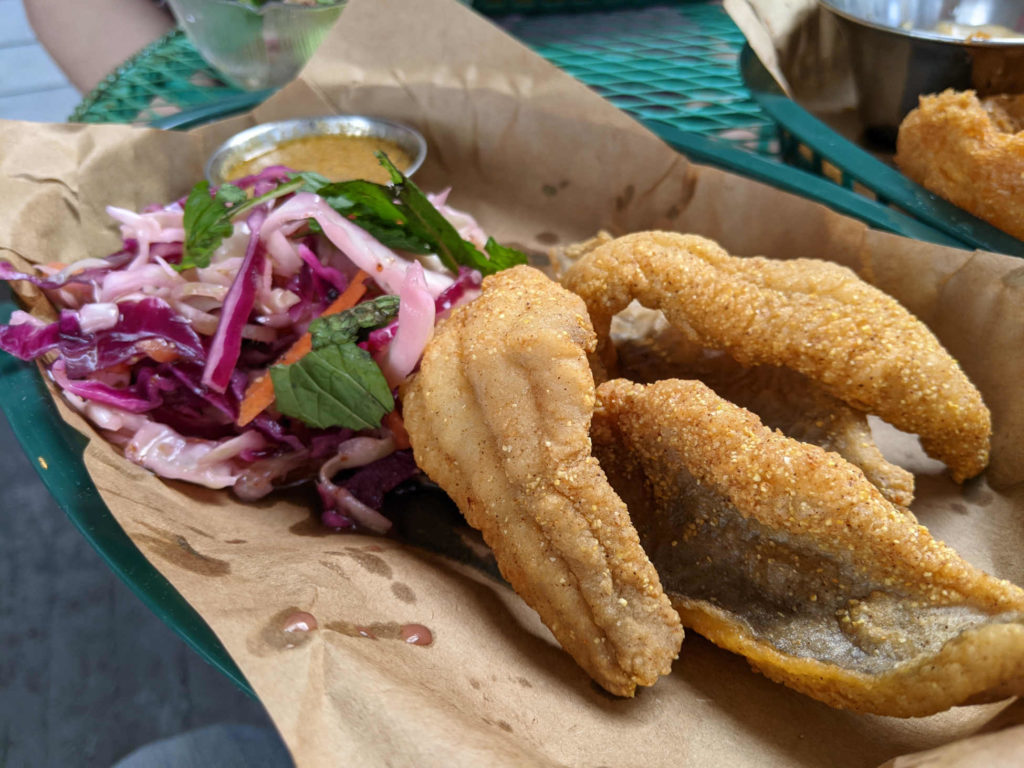 A dozen raw, Gulf oysters were the obvious first choice, served with cocktail sauce, horseradish and nuoc cham mignonette (garlic, Thai chiles and fish sauce). We set to these beauties with a will, as they were freshly-shucked, plump, salty, and only a $1 each during happy hour! John also ordered their beer-battered "O-Rings" which came out at the same time, so in between each slurp, I found myself eyeing a giant stack of reddish-golden, perfectly fried onion rings. Low-carb or not, I still had to try one, especially dipped in Tabasco mash mayo.
We were already feeling a bit full by the time our entrees rolled out. I got blackened amberjack, the "fresh catch of the day," served with two selected sides, marinated cucumbers and Sally's cheddar biscuits. I know, I shouldn't be eating biscuits and I intended to just take a bite and leave the rest for John. So much for intentions? John opted for cornmeal fried, wild-caught Des Allemands catfish served with "zippy" slaw and remoulade.
Both entrees were totally worthwhile, the amberjack was lightly seasoned (the blackening seasoning was not as spicy as I had expected) and the catfish was crisp and moist, but what really caught our attention was the coleslaw. I couldn't place how it was seasoned, but I could've kicked myself for not choosing that as one of my sides. As it was, I ate more of John's serving than he was willing to part with. There's always next time!