Usually when restaurants receive a whole lotta hype, when everyone and their brother's second cousin are talking about it, I am hesitant to succumb to the trend. Why? Because almost every time I do, I am disappointed. I get my hopes up for something fabulous and it turns out to be mediocre, if not downright awful.
Ever since it opened back in 2004, I've been hearing about The Joint, a colorfully quirky Bywater spot on Poland Avenue, right across the street from Jack Dempsey's. It has been written up by almost every publication in town – Times Picayune, The Gambit, Offbeat Magazine and Where Y'at – not to mention a few national props from folks like Playboy.com and Food Network's Diners, Drive-Ins and Dives.
With hype like that, I surprised myself (and John) by selecting The Joint for my 65th cheat. I am still hovering around that 77 pound mark, but I expect it will take another couple of weeks before I break this stalemate and start dropping again.
When we strolled into The Joint today, it was a packed house with folks jammed onto the wooden benches both inside and out. We placed our order at the counter and sat down at the only available table left inside. Since it was so busy, I was shocked to see our order come out so quickly, a whole rack of St. Louis cut, pork spareribs accompanied by two sides, mac & cheese and baked beans.
This is where I wax poetic about how each rib was thick with juicy meat that was literally sliding off the bone and sauce was an afterthought because the smoky, rich crust had more flavor than I've ever tasted in BBQ. I was completely blown away. Although John and I shared the rack, I am pretty sure I could have eaten a whole one all to myself without feeling an ounce of guilt.
Reluctant to taste the sides after such a fabulous beginning, I scooped up a mouthful of their baked beans only to experience heaven all over again. A perfect measure of sweet and salty balanced on my tongue and I'm willing to bet the mouthwatering bacon was also lovingly smoked and crafted in house, just like everything else we ate…including the thick and creamy home style mac & cheese.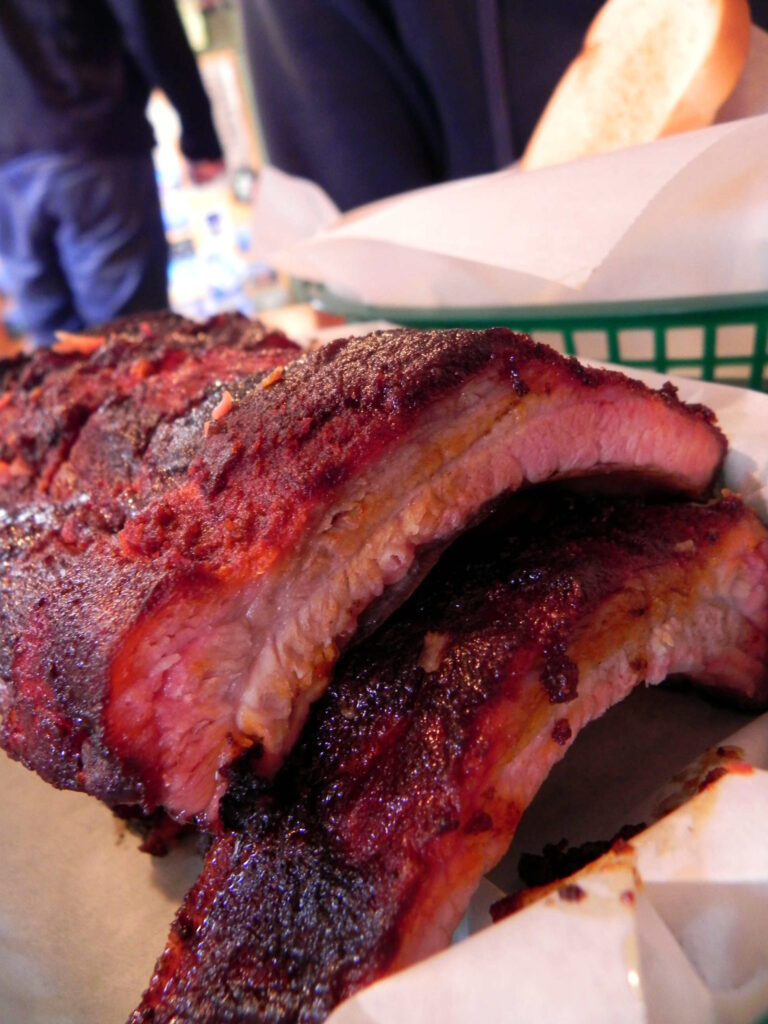 We gobbled everything up, gnawing every last bit of meat from the bones and practically licked the Styrofoam container which held the baked beans. The whole time we were munching away, my eyes strayed to a luscious looking pecan pie sitting under glass on the counter top, knowing that's what we were having for dessert.
I dumped out our trash and hurried to the counter to order a piece of pie, a treat that the cashier informed me was also house made and I almost clapped my hands in glee as he set the sticky, pecan-filled slice before us. Finally! A house made pecan pie that was thick with large pieces of pecans, plus sticky and gooey like it should be. Even John, who is not a big on desserts, fought me for every last bite.
At last…an establishment that had met (and exceeded) the hype! I couldn't have been more pleased with my cheat and I can't wait to return and try their pulled pork and brisket. Thank you Pete and Jenny Breen for a BBQ dream come true, thank you, thank you, and thank you once again.
*The Joint is now located on Mazant Street.