Traditional, French king cakes and where to find them in New Orleans.
Though the king cake traveled to New Orleans from France approximately 150 years ago, the practice actually dates back centuries earlier to ancient pagan festivals. A bean was hidden inside a cake and the man who was lucky enough to find it was made king for a year and then offered to the gods at the end of that year in an annual human sacrifice. Like many other pagan practices, the king cake tradition (minus the sacrifice) was adopted by Christianity and was instead associated with the Epiphany, a feast day that commemorates the coming of the magi and the revelation of God incarnate as Jesus Christ.
Today, in the Western world, the Feast of the Epiphany or Three Kings' Day is celebrated on January 6th and is one of the oldest festival days of the Christian church. In New Orleans, the day is marked by the first of many Mardi Gras parades and the consumption of large quantities of king cake. Locally, the most familiar form of the cake is a sweet roll or danish covered in purple, green and gold frosting and sugar sprinkles, like what you can find at Haydel's, Randazzo's or even the local grocery chain Rouses. But the classic versions from France and Spain are quite different. Luckily for our palates (but not our waistlines!) there's a proliferation of great bakeries in the Greater New Orleans Area, many of which who offer "old-world" versions of this celebrated confection.
Everyone who enjoys pastry likely loves a good sweet roll, which is what many of New Orleans' most beloved king cake bakeries and grocery stores offer. But if you've never enjoyed the classic French "Galette des Rois," you really haven't been living … at least not well. Layers and layers of delicate puff pastry filled with frangipane, which is a sweet almond filling, it breaks apart in your mouth like a buttery cloud. It's heavenly and, in my humble opinion, the king of all cakes.
Gracious Bakery, one of the most prolific bakeries in town, offers a gorgeous galette des rois every year since they opened in 2012. Owned and operated by Megan Forman and her husband Jay, Gracious has expanded from a single location in Gert Town to two more, one on St. Charles Avenue and another on Prytania Street. Her galettes are wondrous pieces of art, and though fèves (king cake trinkets) are no longer baked into the cakes at most bakeries, they still include a little plastic baby in every box. Forman also offers what she calls a "Queen Cake," which is actually a ring-shaped roll or modified pain au lait in new and different flavors – from nectar (like the soda) and praline to the most recent Cherries Jubilee with a rum-soaked cherry filling and Moon Pie with graham cracker, chocolate and marshmallow.
If there's anyone in the Greater New Orleans Area who makes incredible French pastry, it's the folks at La Petite Sophie Patisserie. Bakers and owners Jeff and Lya Becnel are making pastry that is so good, it's rumored that French expats in the area say it tastes like home and their galette des rois is no exception. With its multitude of flaky, buttery layers, creamy frangipane and sweet glaze, it's an experience to remember, and if Becnel decides to offer it this year, the chocolate version will totally knock your socks off. Just this year, La Petite Sophie has begun offering another classic king cake found in Southern France and Spain, a braided brioche ring with a citrus glaze, pearl sugar and colorful dots of candied fruits. Becnel has put a Louisiana twist on this new-old cake with the inclusion of a satsuma glaze. If that's not enough to draw you all the way out to River Ridge, then their kouign-amann king cake, a giant iteration of what is arguably their finest pastry, just might do the trick.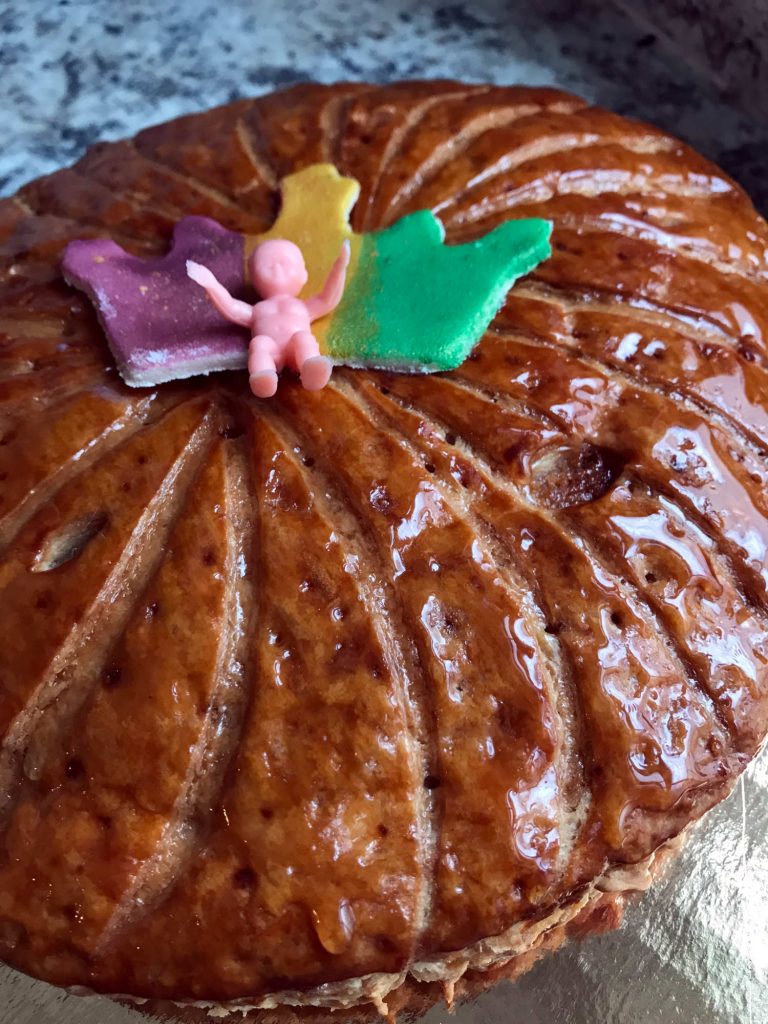 Another great spot offering galette des rois is Maple Street Patisserie in the Riverbend. Polish pastry chef Ziggy Cichowski has been wowing the bend with his breads and pastries for a decade now, and there seems to be no signs of stopping. He's also recently recruited Jack Petronella, a baker from New Jersey who owned and operated the now defunct Manhattan Jack's on Prytania Street. Cichowski's galettes taller than most, puffy domes of bliss, glazed to give the golden pastry a sweet, inviting glow. Maple Street Patisserie also features a brioche king cake with frosting instead of glaze, flaunting the purple, green and gold (justice, faith and power), colors established by the Krewe of Rex in New Orleans almost 150 years ago.
La Boulangerie, the popular Uptown bakery on Magazine Street also offers a stunning galette des rois, complete with a small porcelain fève and a golden paper crown. In business well over a decade, La Boulangerie was purchased by the Link Restaurant Group in 2016 (to much grumbling from the neighborhood's denizens) and now the talented pastry chef Maggie Scales is calling the shots and putting all the rumblings to rest. La Boulangerie also offers the usual New Orleans-style king cakes that are similar to a sweet roll in flavors like cinnamon, almond apple and double chocolate … all of which come with a sweet little, plastic pink pig.
Recently opened just off Magazine Street, Levee Baking Co. is another great source for a stunning galette des rois. Owner Christina Balzebre's homespun bakery had been popping up for several years at the Mosquito Supper Club on Dryades and the Crescent City Farmers Market before finally opening her own digs a little over six months ago. At Levee, their galettes are dubbed "Queen Cakes" due to a few differences in the design, such as the use of whole grain flour and a pecan citrus frangipane. Balzebre's galettes or queens come in two sizes, small and large, and each one comes with a unique porcelain fève handmade by local artist Jackie Brown (@jackiebrownceramics on Instagram) that symbolize the baby Jesus.
Last, but most definitely not least, neighborhood restaurant Thalia announced that they're offering a special galette des rois on their dessert menu for the entire carnival season. Launched in early August last year, Thalia is the brainchild of Michael Stoltzfus and Kristen Essig, the chefs/owners of the popular Magazine Street restaurant Coquette. You won't want to let the Mardi Gras season pass before trying a slice of the almond, hazelnut and Meyer lemon galette from this family-friendly hotspot in the Lower Garden District.