Seven years ago today, I spent my 32nd birthday all alone in the Crescent City.  It had only been two months since I moved from the Bay Area and I hadn't made any friends yet, but I had made up my mind to enjoy a solo evening out on the town to celebrate.  Out of the blue, I get a call from a friend in California who pitied my lonesome state and took it upon himself to reserve a table for me at Emeril's Delmonico. "Are you sure about this?" I asked.  "Absolutely," he replied, "order whatever you wish . . . it's on me."
I had to take him up on his offer, didn't I?
That night, I arrived at Delmonico where I was seated at my own table near the window so I could watch the streetcars go by. Accepting my server's most gracious suggestion, I chose to indulge in the chef's tasting menu. It turned out to be seven courses of pure bliss, each dish paired with wine selected by their knowledgeable sommelier. The servers started to cheer me on, impressed (or perhaps shocked) that I was able to devour every crumb from every last plate. When I finally left the restaurant almost three hours later, I was elated, extremely full and superbly contented. It was easily one of the finest meals I have ever had in my entire life.
The next morning, I got a call from my friend who had obviously seen the rather hefty charge on his credit card and the very first words from his lips were "What the hell did you eat?!"
Here I am seven years later turning 39 and yesterday, I had my weekly "cheat" at Restaurants Cuvee and I am amazed when I consider the parallels to my experience at Delmonico so long ago. This is my 48th cheat and I am down 67 pounds.
John and I were invited to this extravagant luncheon by none other than the "Food Goddess" herself, Lorin Gaudin. We arrived at the CBD restaurant on Magazine Street to find Lorin had already scored the best table in the house.  If you've never been in Cuvee before, know that it has a gorgeous interior featuring the traditional exposed brick walls so often seen in New Orleans combined with a very contemporary shaped ceiling and beautiful iron sculptures posing as light fixtures throughout the dining room and bar.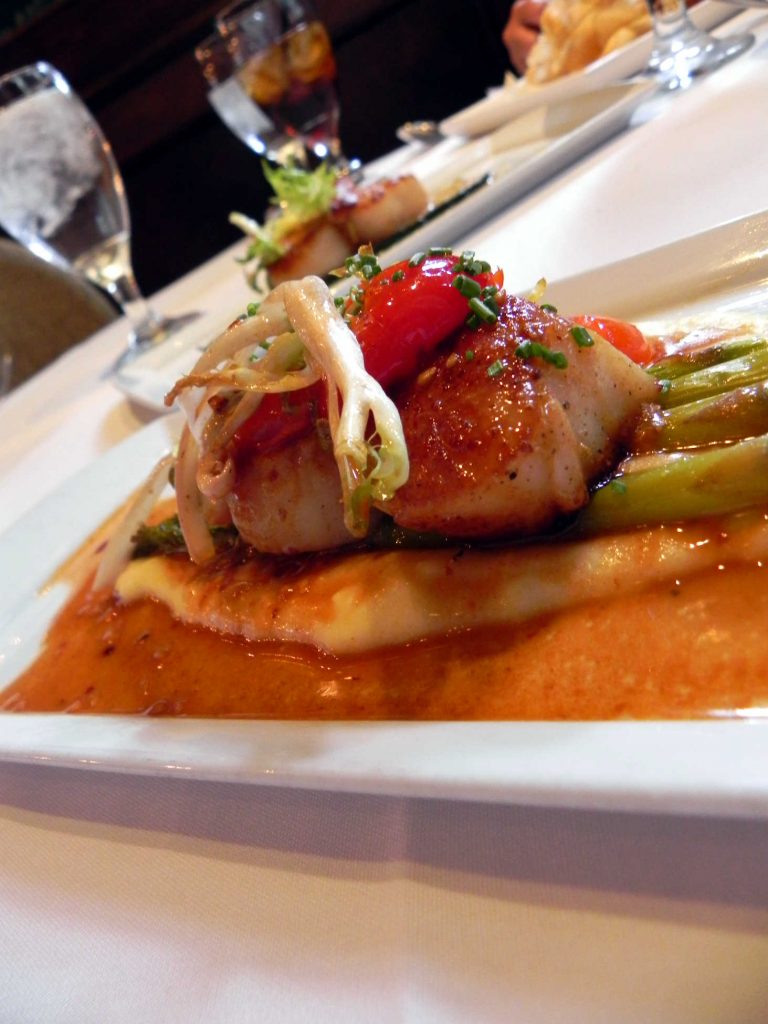 Only a few months ago, Cuvee was lucky enough to hire Chef Isaac Toups who had been managing charcuterie for many years at where else but Emeril's Delmonico. Once again I was going to enjoy the culinary creations of Chef Toups only this time, he had full control of the kitchen. To make it even more spectacular (as if that was even possible), not only would we select items from the lunch menu, the chef was going to prepare some special dinner items just for us. I settled in for what I knew was going to be a wonderfully long and leisurely luncheon.
We all ordered separately, but it certainly didn't stop us from sampling one another's dishes…no cootie fears here among the ready, willing and hungry. John started with a Seared Yellow Fin Tuna served on a bed of arugula and sprinkled with Marcona almonds and a lime-honey vinaigrette. Delicious and summery, the tuna was cooked perfectly and melted in my mouth. John heaved a sigh of relief and satisfaction to finally see tuna prepared the way it was meant to be. My starter was Pork Belly Beet Ravioli braised in white wine with fresh tomatoes and fried shallots on top. No offense to the rest of the table, but I thought mine was the best! Just thinking about the deep purple ravioli stuffed with salty, rich pork and the delicate, crispy shallots initiates Pavlovian response and my mouth fills with water. Lorin's Salade aux Lardons (got to love that pork fat!) with bitter greens and a red wine poached egg was also quite tasty. I especially loved the deep, heady flavor of the egg.
The next round of dishes were what could technically be called our entrees, although there was so many plates it was hard to keep track of it all. John had the Rabbit Gnocchi with fried sage, mustard greens, fresh tomato, Parmesan and a bit of grated orange zest. Usually gnocchi tends to be a heavy, cold-weather kind of pasta but this dish was so clean and bright in flavor with perfectly fluffy gnocchi, it was surprisingly well suited to the season. My dish was much heavier, a Confit Duck Panini with onion marmalade and melted puits d'astier cheese on thickly sliced brioche. The duck was perfect, tender and juicy, and I loved the odoriferous, yet flavorful cheese.
Lorin was treated to two different scallop presentations, the first being Seared Diver Scallops atop creamy polenta (whipped with mascarpone cheese) and sauteed fresh asparagus surrounded by a charred tomato sauce. The other dish featured Sea Scallops topped with a thick slice of bacon, all of it resting on thin slice of tangy marinated zucchini and preserved orange sauce. Both dishes were wonderful and the scallops were perfectly cooked, both juicy and tender breaking apart easily with a fork. The bacon was out of this world, but it was to be expected with Isaac's masterful curing techniques.
This is when things really got out of hand.
Suddenly we were bombarded with three different appetizers from the dinner menu. There was the Deux Fois Gras (fattened goose liver prepared two ways) and some Pan Fried Sweetbreads. As ashamed as I am to admit this, I have NEVER liked fois gras and have avoided sweetbreads like the plague. Unfortunately, my father tormented me with all kinds of organ meat when I was a child. Between my mother's disgusting rendition of liver and onions fried in a cast iron skillet and my father chasing me around the house with a huge cow tongue and 'licking" my adolescent cheek with horrific relish (and laughing uproariously the entire time), I just couldn't bring myself to try anything of the sort when I finally reached adulthood.
So when this "organ extravaganza" came to the table, I took a deep breath, screwed up every ounce of courage I possessed and, with encouraging words from Lorin (my friend and mentor), I gave them a try. Braving the "worst" first, I cut a small slice of the pan fried sweetbreads, swirled it in the creamy sweet pea sauce and topped it with a piece of Isaac's house made pancetta and popped it into my mouth. Much to my surprise (and relief) I found it quite delicious! It reminded me of really excellent fried chicken and my second bite was taken in a much more relaxing manner.
I decided to face the Shaved Torchon Fois Gras next, a dish I'm going to dub "Fois Gras for Dummies." I knew I wouldn't really enjoy the other preparation, which was a grilled lobe of fois gras, as I had tasted it on many different occasions, always coming to the same yucky conclusion. But, I have to admit that the Torchon was absolutely magnificent, tasting like a thick, creamy butter and I know now, I wouldn't hesitate to order it again. At last I had been successful, rising to what I felt was a higher level in my culinary education and teaching my palate to appreciate dishes I had always feared. It might sound silly, but I felt elated and proud.
Our final wave was three wonderful desserts which made the previous round look positively scary.  Who wouldn't want to devour Chocolate Banana Bread Pudding with Butterscotch Ice Cream or an "Elvis" featuring grilled Buffalo Mozzarella Cheese, sliced banana, peanuts and blackberries?  The third dessert was my absolute favorite, a creamy crème brûlée made with sherry and macerated sour cherries.  It has a thin, crispy sugar crust that, when broken, revealed a decadently cool custard that three of us practically fought over to get every last bite.
After an almost immoral three-hour lunch, we thanked our server and Chef Isaac profusely for a wonderful experience and waddled our way out of the restaurant. Not only had I experienced another incredible meal similar to the one I had back in 2003 (minus the wine), I had grown as a diner and solidly reinforced one of the biggest reasons I moved here.
Neither floods, nor winds, nor slicks of oil will prevent me from living and loving New Orleans, my home sweet home.
*Cuvee is closed