When Casey invited me to a show at Le Petit Theatre a few nights ago, I instantly thought, "Where should we go for dinner?" An evening on the town isn't complete without a meal after all and I'd recently discovered a fabulous package deal specifically designed for theater-goers, a three course menu for $25, plus (and here's the real kicker) five hours of free parking in the French Quarter from Muriel's Jackson Square Restaurant.
This is my 54th cheat and I lost one of the pounds I gained last week, so I am down 71 pounds.
We were joyfully joined by another close friend of Casey's, so Stephanie made three on our epic girl's night out in the "Quarters." We arrived on time for our six o'clock reservations, the car snuggled away in the Place D'Armes Hotel parking lot and dressed "to the nines" for a night without the boys. Well, they were dressed up. My supply of evening wear disappeared when my dress size rose above 22. Still, I knew that Muriel's attracted a lot of casually dressed diners, so I wasn't too worried about it. Besides, I'm certain at least a few of the catcalls echoing across the Square were meant for me as well.
We were seated at a nice table and offered menus, though from what we read online, we already had a pretty good idea of what we wanted, but we also selected some drinks. Stephanie likes her vodka straight up, but Casey and I decided to share a couple of Muriel's special cocktail concoctions, a "Streetcar" featuring New Orleans Spiced Cajun Rum (gotta love Old New Orleans Rum) and a "Neutral Ground" with Hendricks Gin, Campari and absinthe. Giggling at the giddy wave of freedom flowing over us, we (carefully) clinked our glasses together and toasted to the beginning of a wonderful evening.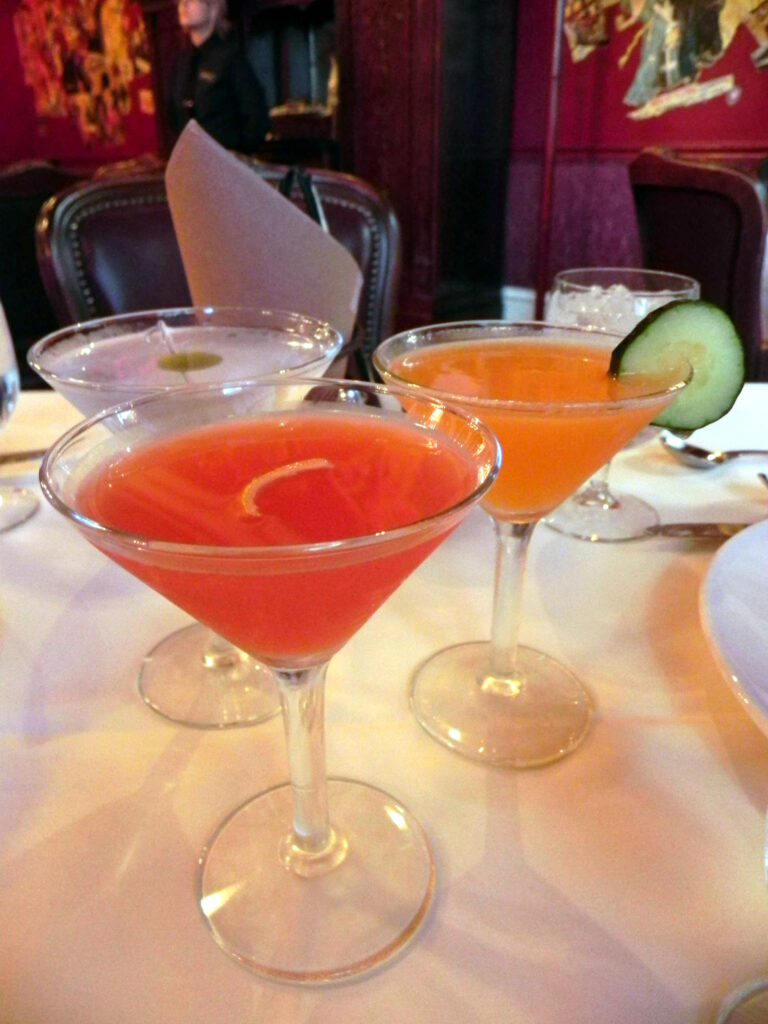 While we were sipping, the first course arrived. Casey and I both chose the Turtle Soup with Sherry while Stephanie had the Seafood Gumbo. Since Stephanie let me taste a spoon, I can say that they were equally creamy and rich, and both were based from a dark, nutty roux.
Last Thanksgiving when John and I visited Muriel's, I ordered a double-thick pork chop and I simply couldn't resist ordering the same thing, even though I did everything in my power to select something new. I get so few opportunities to re-try dishes I've tasted before, I just couldn't help myself. Served with smoky collard greens and pecan glazed sweet potatoes, the juicy chop was almost as good as I remembered.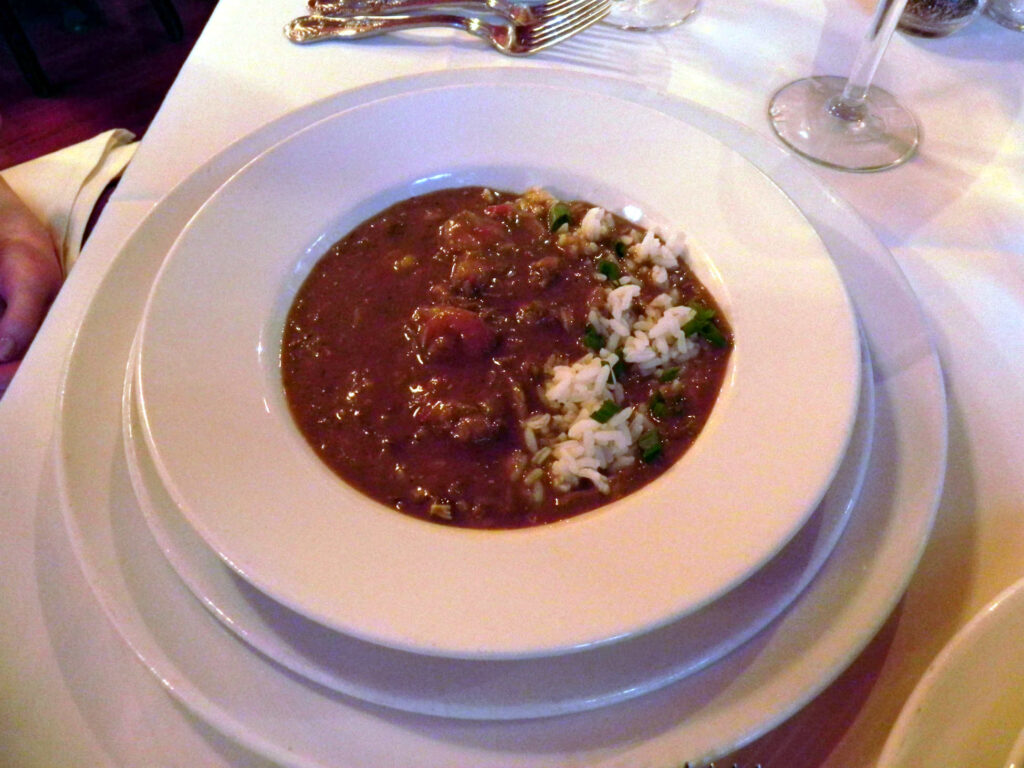 Casey's order was the Seafood au Gratin, this bubbling, creamy goodness arrived in a hot cast iron pan featuring a large potato croquette on top. Stephanie got the Pecan Crusted Puppy Drum (it's not a puppy, right?) served atop a pile of crab meat relish and surrounded by lemon butter sauce. I found both of their dishes tasty, though the Puppy Drum had a nice crust and was cooked perfectly, without the sauce (which she wanted to lick from the plate), it was sadly bland. Neither dish made me regret ordering my beloved chop.
We were all pretty full, but we manage to polish off our delicious dinner with some decadent desserts. I had to get the Creme Brulee, but both Casey and Stephanie opted for the Bread Pudding with rum sauce. Keeping our schedules in mind, we inhaled most of the desserts while the wait staff provided our check, returned with the change and still left us with plenty of time to scurry across the Square to order yet another drink and find our seats at the theater. The show must go on…