Yeah, this is one of those blogs, so if you've had enough of retrospective, "year-in-review" hullabaloo, I won't be dismayed if you decide to move on. But, for those of you sticking around…
2012 was a pretty stellar year for me. I got to dine at some incredible places in New Orleans and managed to acquire a few more writing gigs. Who knew it was actually possible to write for a living? Not a spectacularly secure living, but I get I by and I'm happy and that's what really counts, after all. A lot of folks like to list their top ten, but I'm not really a "best of" kind of gal. Instead, here are a few culinary experiences in the past year that really blew my (taste) buds away.
First up are the Pan-fried Sweetbreads I enjoyed at Bayona. If you would have told me that I would become an avid eater of organ meat a couple of years ago, I would have scoffed and snorted in total disbelief, but dishes like this have altered my perception of food…thank you Susan Spicer.
Next up, Root…how could I not mention Root? Chef Lopez has brought a whole new, creative culinary dimension to New Orleans that simply did not exist before and everyone, locals and tourists alike, are literally eating it up. One of the most popular dishes on the menu are Louisiana Pickled Shrimp with shrimp stuffed deviled eggs, and that's just the beginning.
Although this next restaurant is, sadly, no longer in existence, I will never forget my trip to Sweet Olive. Thankfully, Coquette is still around and some of the dishes from Sweet Olive can still be found there, like this bread basket extraordinaire – a trio of mini biscuits, two cream cheese, two cornbread and two pimento cheese pinwheels – that I unfortunately had to share.
Last year was the first year where I was actually considered real "press" and because of that, I was invited to all kinds of fabulous events. I was a judge for the annual NOWFE fleur de lis awards, Hogs for the Cause recruited me to judge in their "Whole Hog" category, I enjoyed my first ever, Tales of the Cocktail spirited dinner at Coquette and got to experience the brand new Grub Crawl where I reaffirmed my admiration of the great works of Chef Alon Shaya at Domenica. Out of all of these fantastic adventures, one stands out in my mind because of this next dish. At the Star Chefs "Rising Stars" event inside the the New Orleans Museum of Art, I was finally able to sample the delicious creations of pastry chef Rebecca Cohen at Stella! Will I ever again be able to afford to sample anything like this Frozen Chevre Parfait with poached pears, financier and caramel croquant? Maybe someday…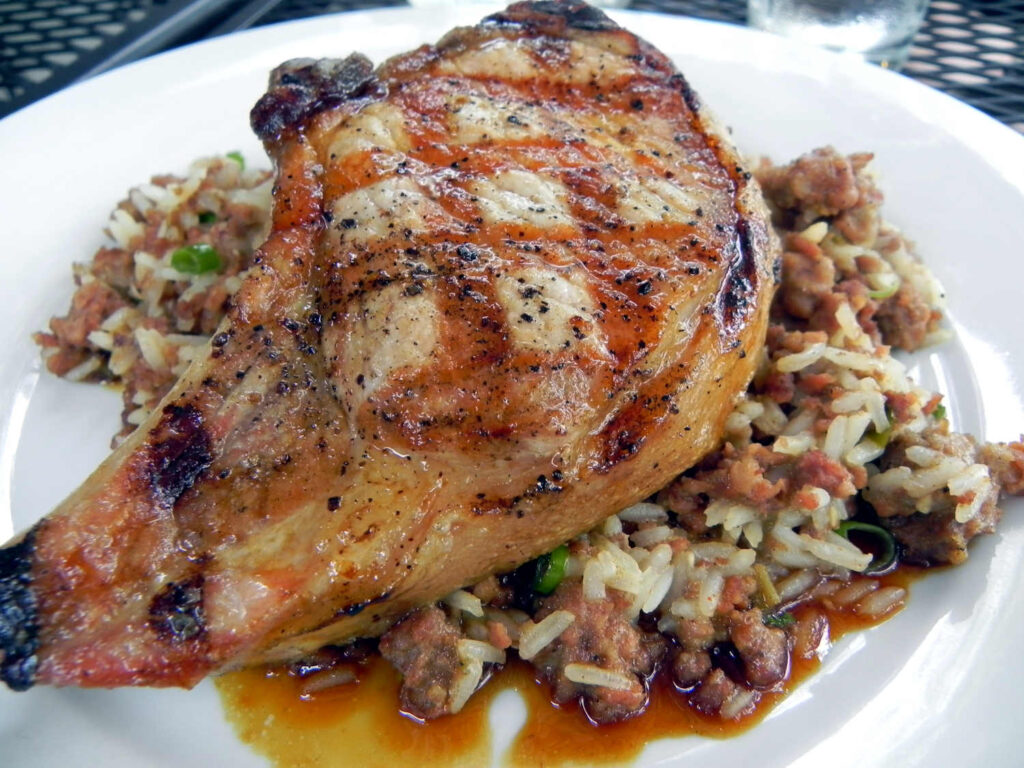 The carnivore in me still has dreams about Toups' Meatery. Chef Isaac Toups blew me away with Boudin Balls and Cracklin's, but the "piece de resistance" was this Double Cut Pork Chop that had a small drizzle of Steen's Cane Syrup gastrique and was served atop a the most delectable pile of dirty rice I have ever eaten. Seriously, Toups' dirty rice is, as my boyfriend would say, "amazeballs."
Although I devoured a lot of fabulous food last year, those were the experiences that really stood out for me, ones I will likely not forget. I can't wait to dive into 2013 and devour some more memorable moments.