"I like coffee exceedingly."

-H.P. Lovecraft
We're all familiar with that gnawing feeling that sneaks up on us mid-morning (or even mid-afternoon). You've already had breakfast and it's a bit too early for lunch but your stomach is grumbling and your attention is waning quickly, especially while sitting in yet another useless meeting covering the topics not hashed to bits by last week's meetings. Once the doors finally open and you're released from the boardroom like a line of restless horses at the track, instead of heading for a mediocre cuppa Joe and a stale donut in the break room, see if you can't sneak out for a jaunt to something a whole lot better.
With all the new coffee shops popping up all over town, there's absolutely no reason to resign yourself to a cloying, Styrofoam mouthful of Taster's Choice. One of the most recent additions to the New Orleans java atmosphere (and rather close to Downtown) is HiVolt. Benji Lee, owner of The Saint Bar & Lounge, opened his java stop with the intention of serving quality coffee and (mostly) healthy eats to denizens of the "hungover state" (a.k.a. folks who sucked down one to many mere hours before at The Saint only a couple of block away).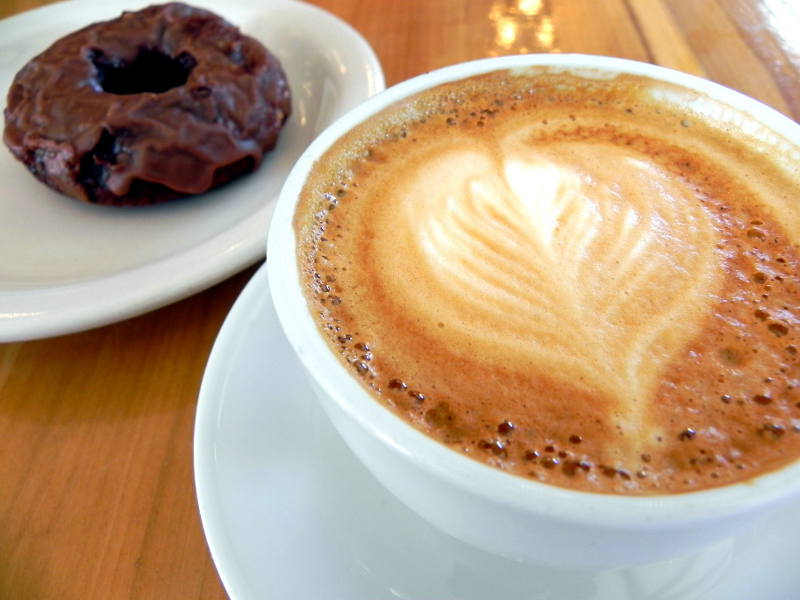 Literally wedged between Sophie Wright Place and St. Mary Street, HiVolt occupies what used to be a seafood restaurant that Lee has magicked into one of the coolest looking coffee shops in town with porthole windows, brick flooring, a black and white tiled bar and cool metallic chandeliers dangling from the ceiling. With several tables, both inside and out, you can pop in for a rich, foamy cappuccino made from Counter Culture Coffee and one of Rocket Girl's vegan/gluten free Mexican Chocolate donuts. If you're going the paleo route, let us highly recommend the Chimi Beef Salad with mixed greens, slow-cooked chuck, fresh avocado and tomato topped with a perfectly poached egg drizzled with chimichurri sauce.
If you'd rather avoid the whole health craze altogether, head Uptown on Magazine Street to District Donuts Sliders Brew near the corner of Jackson Avenue. Featuring specialty coffees like Americanos, Macchiatos and Cortados (not to mention espressos, cappuccinos, lattes and mochas) all made from 1000 Faces Coffee based out of Athens, Georgia, but like the name suggests, this interesting eatery also offers a constantly changing menu of unique donuts and sliders, all of which are under $5 (though sometimes exotic slider ingredients make the price slightly more). Decadent donut flavors in the past have included Vietnamese Iced Coffee, Salted Caramel and Sriracha Maple Glaze. Or, take your indulgence a step further with their Monte Cristo Sandwich served on a griddled donut with Nueske Ham and Gruyere Cheese, and topped with preserves and a sprinkling of powdered sugar.
Seems like every coffeehouse offers something just a little different and Sólo Espresso, housed in the basement of a raised double, is no exception. Way down in the 9th Ward on the corner of Poland Avenue and Urquhart Street, this spot feels like a mix between a head shop and a cafe serving specialty coffees from different roasters based upon the whims of who's in charge. Mainly, Sólo offers blends from Panther Coffee out of Miami, plus cold brews and "single origin pour overs" from the famed, local French Truck roasters. You can sate your sweet tooth with vegan toast and jam, chocolate truffles and an array of croissants, cookies and other pastries, depending upon the local bakery they source from like Heart & Crescent Breads in Bywater.
A favorite Uptown spot now has another location on Oretha Castle Haley, the aptly dubbed Velvet Central. Like the Arabella location, Velvet offers wondrous espressos and cappuccinos made from coffee like Intelligentsia and Stumptown, plus their famous syphon-brewed joe made in a Japanese coffee pot resembling a chemistry set. The new cafe also offers tasty, small plate breakfast items like skillet eggs with bacon and frosted flake-crusted French toast. Naturally, Velvet central still features their unique baked goods like scones, tea cakes, pies and their ever-popular "Pop Tarts" in flavors ranging from chocolate to satsuma marmalade.
*Article originally published in the March 2014 issue of Where Y'at Magazine
**Velvet Central is closed