The dishes we eat and how and when we eat them are as varied as the ingredients that make them up. The dining habits of rich and poor alike become time-honored, cultural traditions that every community on this earth can lay claim to, and New Orleans is no exception. The practice of celebrating Epiphany by eating king cake traveled from the old-world along with our ancestors' steamer trunks, but in the Crescent City we made it our own with a brioche-like cinnamon roll decked out in purple, green and gold – and woe to those who eat king cake at any other time of the year as it's widely known to cause bad luck! Though its origin is debated, many believe the po-boy came about because a sympathetic restaurant owner gave French bread stuffed with meat scraps and gravy to the "poor boys" who were on a 4-year strike against the streetcar company in the 1920s. And then there's red beans.
Arguably one of our city's most iconic dishes, red beans and rice is traditionally served on Monday night and is made using the extra bits and bones leftover from Sunday evening's ham (yet another traditional meal). Carrying over from the Victorian era was the notion that Mondays were wash days and since laundry was a horribly arduous task, it left little time to get dinner on the table. Red beans and rice were a delicious solution, a dish that not only used up the leftover ham, but something that could (and should) cook low-and-slow for several hours, leaving time for moms and maw-maws to get the clothes clean. Though for most doing wash on a particular weekday has become a thing of the past, the habit of enjoying red beans on Monday nights is still going strong, whether you get it from your grandmother's stove top or grab a bowl from a neighborhood restaurant.
For over 80 years, Mother's Restaurant has been slinging red beans and other classic Creole fare from an old brick building on the corner of Tchoupitoulas and Poydras streets in the Warehouse District. Known for their "world's best baked ham," it stands to reason why their red beans would be among the best in the city. Sourced from Chisesi Brothers, another century-old New Orleans institution, the hams are trimmed of fat and roasted with Mother's own secret blend of spices, sliced and used in nearly half the dishes on their menu; from omelets and turnip greens to their "Famous Ferdi Special" po-boy with ham, roast beef, and debris with au jus gravy. Like many other of Mother's favorites, their red beans are magicked using those precious, rendered ham fat trimmings, along with meaty ham bones, resulting a dish that is like what mama used to make, a dish that reminds folks of home.
The Warehouse District restaurant was born in the late 1930s when Simon Landry purchased what was formerly a small, Greek sandwich shop for his wife Mary, who loved to cook. Later, their sons Eddie and Jack took over the family business and since it was their mother's business from the get-go, it only seemed fitting that they name it accordingly. In the mid-80s, brothers Jerry and John Amato purchased Mother's from the Landrys and it has stayed in their family ever since. When the Amatos took over, they made it a point to maintain the Landrys enduring recipes, sprinkling a few of their own additions into the mix.
Part of Mother's undeniable magic is that people who've enjoyed their meals can come back years later and enjoy it again, exactly the way they remember it. The restaurant touts that they are the "proud keepers of tradition," and patrons know that the red beans and rice they eat today will taste the same as they did twenty years ago. Another significant reason for the restaurant's consistency is because most of their staff has been employed there for decades, people who have been a part of Mother's for so long that they've become family.
The story of Roland Swazy, Mother's head chef, is the perfect case in point. New Orleans born-and-bred, and a graduate of Walker L. Cohen High School, Swazy began working for the Amatos as a dishwasher in 1987 and in the local restaurant tradition, worked his way up the ranks to head chef. While simmering a huge vat of jambalaya, Swazy related the secrets of Mother's incredible red beans and rice from the ham fat trimmings and the addition of their roast beef au jus, to using Creole Country smoked sausage and Camellia Brand red beans, which by the way are never pre-soaked. Shirley Levy, another longtime cook at Mother's, can whip up a batch of fried chicken that is so mouth-wateringly good, it gives the famed Willie Mae's a run for its money.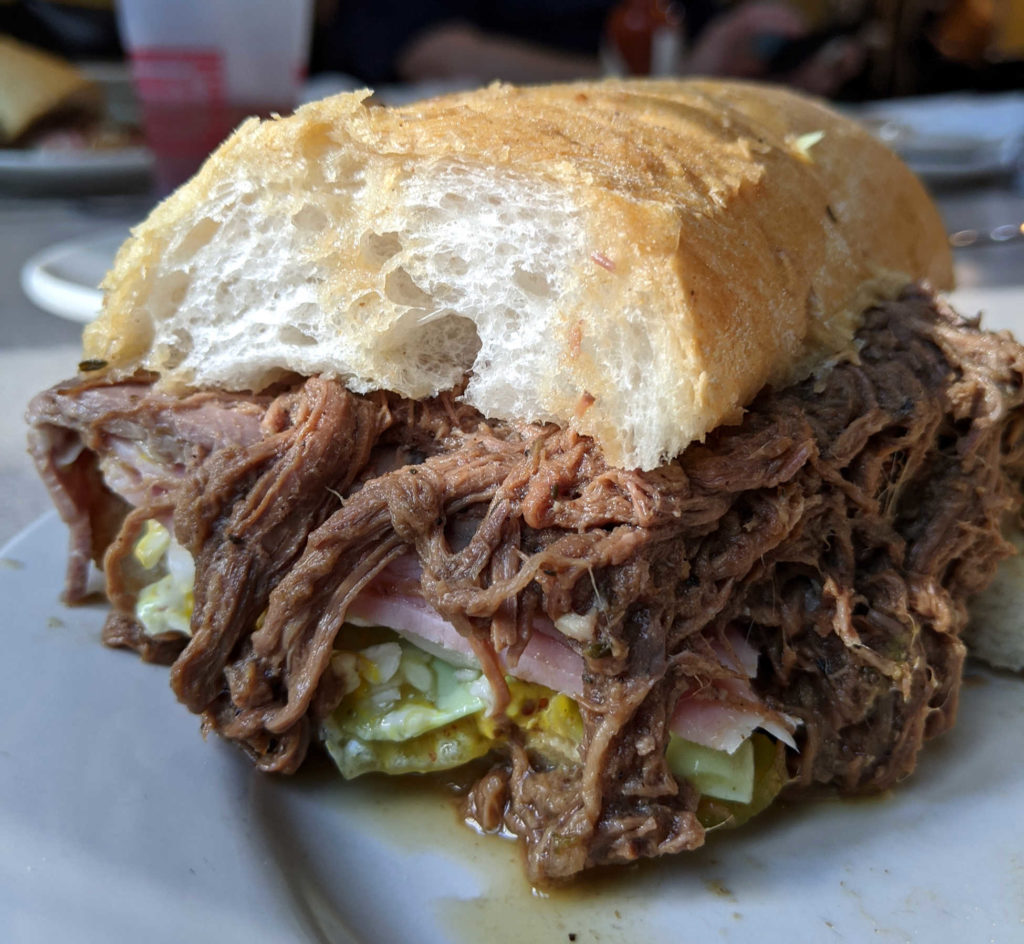 Like so many other restaurants and businesses, Mother's has suffered its own losses and setbacks due to COVID-19. Perhaps it was because they had already survived for almost a century or because patrons still clamored for their dishes even when it was mandatory they close, or perhaps the hard-working folks who have spent a large part of their lives to make this quintessential New Orleans restaurant a name known the world-over weren't willing to give up even during a global pandemic, Mother's still remains and is going strong. Though the line down Poydras Street has all but disappeared these days, Mother's has adjusted with the times, offering both takeout and delivery, plus dine-in at 75% capacity. They have adopted social-distancing policies with tables spaced six feet apart and diners are required to don masks for entry; and for the first time in 83 years, Mother's now offers table service, as the previous set up with steam tables and ordering lines is no longer viable.
Though steeped in tradition, Mother's continues to make whatever changes are needed to ensure "everybody gets fed" and "everyone keeps coming back." In fact, soon fans from all over the country won't need to fear current travel risks to get a taste of Mother's as the restaurant is poised to start shipping nationally with Goldbelly.com. Can you imagine red beans and rice delivered on a Monday, right to your door? The future is looking bright, indeed.
*Article originally published in the December 2020 issue of Where Y'at Magazine