You may be surprised to learn that I have dined inside only two restaurants since late March 2020. I've braved the courtyard or patio of a few spots, but even now, fully vaccinated and lightly restricted, I am hesitant. Fear is still a factor, after all I'm fat and asthmatic, a perfect recipe for a COVID-19 disaster. Also, like many people, I am having difficulty re-learning how to be social. My apartment, while crappy and small, is a safe haven where I can wear, say and do whatever I want, whenever I want.
When I was recently invited for a media lunch at Copper Vine, I was pretty nervous, though I wasn't worried about the food. I've dined at Copper Vine a few times in the past and enjoyed every bite. I was mostly anxious about interacting with other people, something I've always found to be relatively easy. Additionally, I typically don't accept media invites or free food because I think it can unfairly alter my experience. But in all honesty, I can no longer afford to turn them down, especially from a restaurant I already believe to be worthwhile. But, that's another blog . . .
Needless to say, I gladly accepted Copper Vine's most gracious invitation, excited to experience a few of their new menu items. John and I bathed, put on clean clothes (I even wore perfume) and drove down to the CBD. It was warm, but windy that day otherwise I would've loved to enjoy their plant-adorned courtyard again, but I still felt a bit angsty when we were seated inside. The staff and everyone not eating or drinking respectfully wore masks and the seatings were distanced, all of which helped me relax. Plus, our server was incredibly bright and friendly, perhaps unknowingly making the social anxiety John and I felt fade away. Although the prosecco they brought out almost immediately helped, too.
After much discussion (and a little bit of bickering), we made our selections. John decided to have a cup of their chilled vichyssoise, a creamy, smooth variation on the French potato and leek classic made instead with coconut milk and avocado, and garnished with cucumber and fried shallot sambal (chili paste). He also enjoyed their gnocchi au gratin with smoked gouda, gruyere and Parmesan — a cheesy, comforting concoction with dense, but pillowy-soft, house made gnocchi and thick slices of cheese rind baked to a golden brown on top. It was so rich, that even with my help, we could only finish half of it.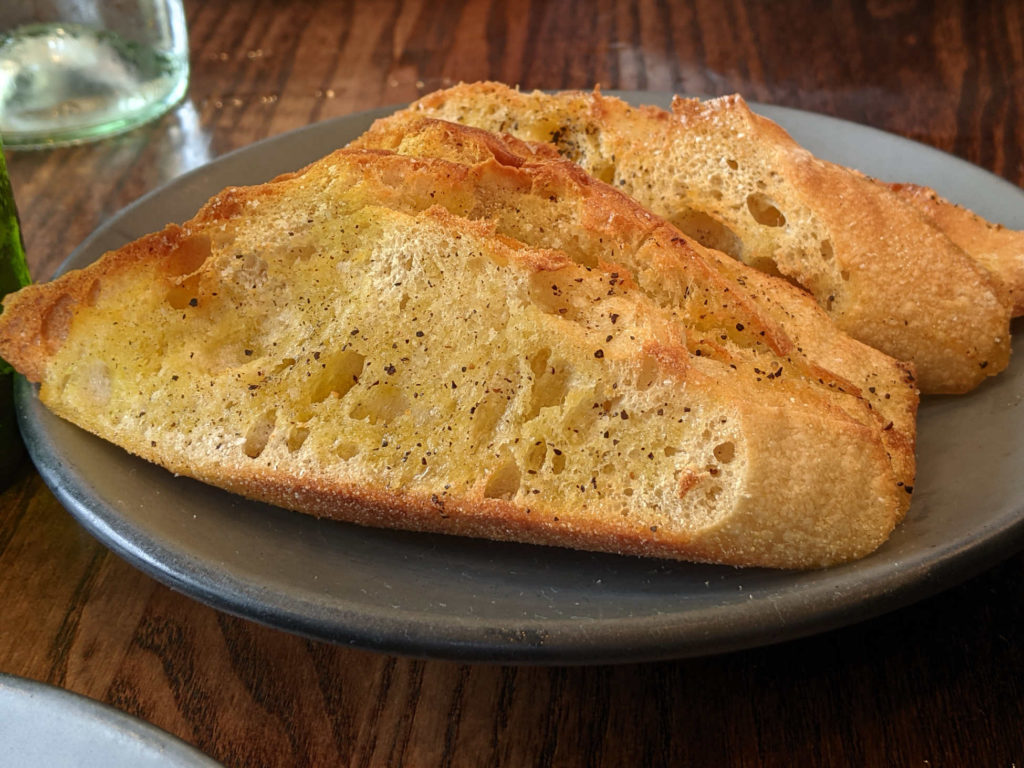 I chose the burrata with heirloom tomatoes drizzled with balsamic vinegar and fresh basil. If was being a good keto girl, like I should've been, I could've just savored it with a spoon. But I'm weak and couldn't resist shoveling the creamy, tangy burrata into my face with the crisp, buttery sourdough crostini they brought with it. Since I didn't know that John was ordering the baked gnocchi (hence the bickering), I ordered their crawfish and andouille gnocchi entrée with tomatoes, greens, butter and miso broth. Now, I don't know if I'm getting old or what, but it seems I can no longer tolerate shelled crawfish anymore. I can eat boiled crawfish till it's gone. Just dump it on the table and watch me go, but more and more I'm discovering that pre-shelled crawfish in pastas and étouffées just don't taste right to me. It's too fishy, and I am a devout seafood aficionado! I suppose I can chalk it up to aging and/or menopause, but I can't do it anymore and that dish proved it to me. Again, the gnocchi was beautifully tender, but I think the dish would've been better overall if it just had butter and greens, especially as a springtime or summer dish.
We were offered dessert, but being inordinately full, we passed on splendid-sounding Banana's Foster Rum Cake with Creole cream cheese icing and kept it simple, yet not as sweet, with an expertly-pulled cup of French Truck cappuccino. By the time we left, my social anxiety had lessened considerably, and John and I spent the ride home pondering a good day to return. I think I am getting used to the new normal.