I've never been on a Caribbean vacation. The closest I've come to warm, tropical water and white, sandy beaches with shady palm trees is Destin…and that was only once. The other day, I was having a serious yen for all things "tropical." I pictured myself with a colorful cocktail in hand, complete with mini umbrella and excessive amounts of fruit, laying around in the balmy shade and picking at tasty finger-foods at an extra-leisurely pace. That's when I decided that John and I should finally visit Baru Bistro & Tapas on the corner of Amelia and Magazine Streets for my 92nd cheat. I gained three pounds from last week (am I giving up?), of course I went anyhow…
Though the corner bistro's interior was dim and cool, I wanted to sit outside. Yes I know there is still roadwork being done on Magazine, but all the boys were eating their lunches in the shade and their machines were quiet. I was all but rubbing my hands together in delight as I pictured the "fruit-tastic" cocktail I was about to order when I spotted a small, paper sign in the window. It is still BYOB at Baru, but this didn't stop the table next to us who picked up some wine on the way over…something to remember next time.
No matter, I really wasn't missing the booze all that much while sipping on a couple of fresh fruit spritzers. We guzzled our way through mango, strawberry and (my favorite) pineapple, but all were delicious. John thought we should just order a whole mess of tapas, and I agreed on the plan, selecting five different dishes to share and saving a spot for dessert.
The special that day just sounded too irresistible to pass up and I am oh-so glad we didn't. The mejinllones en escabeche or cold, marinated mussels were plated in "cake" form with a small dice of mangoes, peppers, chives and cilantro, and served with thick slices of toasted french bread. As we guzzled and scarfed, another plate of "atun tartare" – Yellow fin tuna, creamy avocado and coconut oil – blessed the table, complete with warm, white corn tortilla chips.
Other diners might have thought the pace of the kitchen was a bit hurried, but we were having no trouble keeping up. The next two dishes, two hot tapas items, arrived just as we crunched the last chip. The croquetas de pascado or white fish potato croquettes were fried to a golden brown and each was nestled in a spicy pool of tartar sauce that reminded me of deviled eggs. The other dish, arepas con lechon, was a marvelous, layered creation featuring a thick, black bean spread sandwiched between two, crispy white cornmeal cakes and topped with a neat pile of pulled, marinated pork and creamy queso fresco. Both dishes had three items per plate and instead of splitting the last one, we had to choose which item we wanted two of. I couldn't resist the fried balls of bliss though and John was happy gobbling down some more of that juicy, pulled pork.
Selected due to it's reputed popularity, I was a little bit nervous about the final dish. But after the first bite of mazorca – freshly roasted corn kernels of floating in melted "salao" cheese and "pink sauce" and topped off with crunchy potato sticks – I was sold. For the life of me, I knew not what was in the pink sauce (I want to guess there was palm oil involved), but I had no clue about "salao." It was simply delicious and we had inhaled more than half before our server arrived with the proper utensil for the job, a spoon.
[Side note: At home, I looked up both Spanish terms. Mazorca, as far as I can tell means "ear of corn," but it is also slang for "smiling from ear to ear" and salao means "salty," but it also means to have terrible luck. Is there a joke I'm missing here?]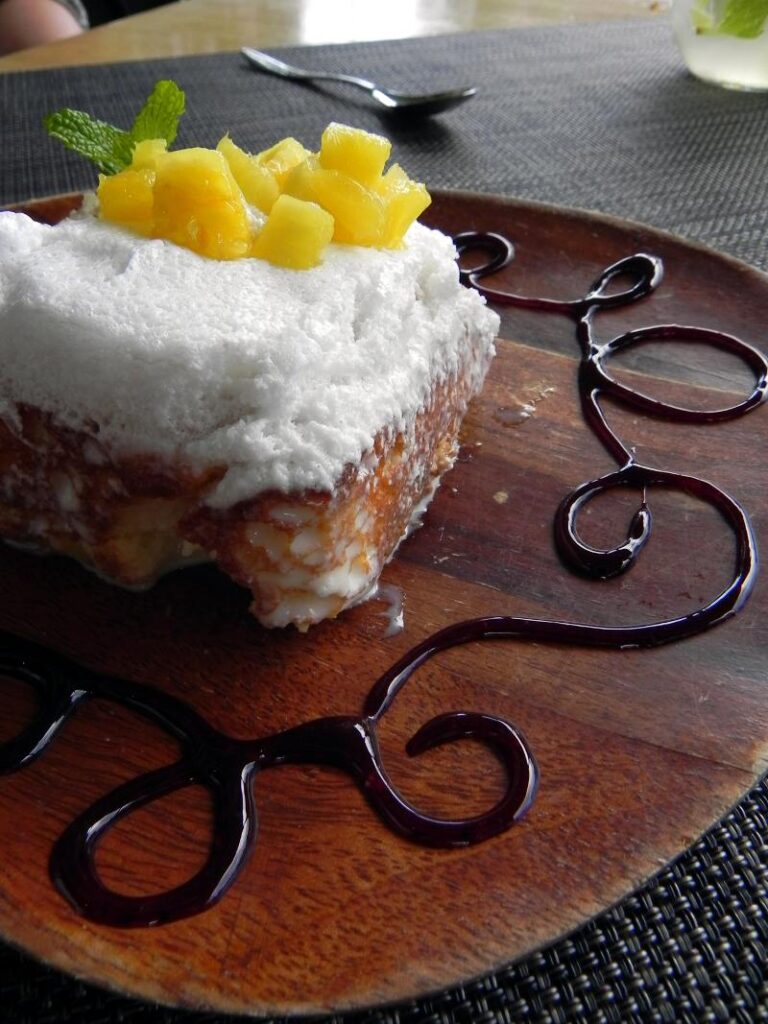 It was time to put a cap on our feeding frenzy, even though I was sorely tempted to add the ceviche to our order. Heaving a sigh of relative regret, I chose our dessert, Baru's Quatros Leches cake. An extremely airy version of pound cake was soaked in the usual three; condensed, evaporated and heavy cream. Plus, there was a thick layer of foamed crema for the icing and fanciful drizzles of a fresh berry puree. It was incredibly delicious and is playing a close second to my favorite Tres Leches from Maya's on the other end of town…but on the same street. The only disappointment at Baru came with the check. It just seemed a little too big a bite out of the wallet for an "alcohol-free" tapas experience.
By the way, doesn't it seem like everything is on Magazine these days? Perhaps I need to make a greater effort to branch out.