Poet Joseph Addison once wrote, "No one is more cherished in this world than someone who lightens the burden of another." If there ever was an individual who embodied this belief, it would be Di Fillhart from Bay Saint Louis' Starfish Cafe.
Born in Pennsylvania, Fillhart spent most of her life on the move. Before finally putting down roots in Bay Saint Louis, she'd say it was her "48th move in 48 years," so pinning down the timeline of her life is somewhat daunting. After graduating from Ridgway High School in Pennsylvania, she attended a vocational nursing school and became a Licensed Practical Nurse. Later, with children in tow and a divorce behind her, she moved back to Ridgway and, due to a nursing shortage at the time, became a pediatric RN on-the-job.
Fillhart wasn't raised in a particularly religious family. In fact, it was through her nursing career that she professes her discovery of the true meaning of self-sacrifice, the power of prayer and the essence of faith. While working in the Neonatal Intensive Care Unit (NICU) at a hospital in Sarasota, Florida, Fillhart experienced her "aha" moment and gained insight which affected the trajectory of her life. "The nurses that were in the NICU were amazing and they were all women of faith and they all played well together," says Fillhart. "They were all different denominations or religions and what caught me was they were calm, and loving, and they would cradle the babies, and I saw miracle after miracle. After a while I was like, I think I want to get in on this!"
Opening herself fully to faith, Fillhart became ordained as a pastor, and soon after began working as a nurse at Penn-York Camp, a non-denominational Christian camp and retreat in Ulysses. While there, an elderly woman who had been cooking for the camp had to resign and Fillhart, ready to take on any challenge, took on the role in addition to her nursing duties. "I'm always obnoxiously optimistic" Fillhart laughed.
Though she jokes about it, Fillhart's cheerful demeanor and positivism is infectious. Over the years, she has become well known for her extreme willingness to go above and beyond, doing whatever she can to help ease hardships and bring people together. It was this unerring sense of compassion and determination that led her to disaster relief.
Shortly after the tragedy of 9/11, a priest named Father Carmello sought Fillhart's help in providing socks to the fire fighters working tirelessly to find survivors in the rubble. "I was known for washing feet and putting clean socks on homeless people," says Fillhart. "For the next month, we brought socks and chocolate to the firefighters' compound on the other side of the Williamsburg Bridge." Though she didn't realize it at the time, looking back now Fillhart can see how her time in New York was the first step she took towards Bay Saint Louis. "They took us, a whole group of pastors, down [to ground zero] to pray. Pray for the firefighters, pray for the families that were all standing around just hoping for the possibility that someone might still be alive," Fillhart recalled. "I think all of that really impacted my life more than I knew at the time."
In July of 2005 one of the board members of PNEUMA – Winds of Hope, a non-profit community outreach organization, called Fillhart to report a vision she had of a decimated coastline. Fillhart and other members immediately started preparing, stocking necessary foodstuffs and goods for disaster relief. "We didn't know where we were going yet, but we were ready! We had a garage full of stuff ready to go" says Fillhart. When they saw Hurricane Katrina cross over South Florida and enter the Gulf of Mexico, they finally realized their destination.
Driving down to Louisiana from Pennsylvania, Fillhart and her group stopped to get gas in Baton Rouge. While there, a huge truck pulled up from CityTeam, a non-profit group from San Jose, California which provides programs to help members of their community receive the help they need, providing everything from groceries and housing to restorative programs and career help. Like Fillhart, they had made the trip down to help with disaster relief after Katrina ravaged the Gulf Coast. "We were talking with the driver and he asked us where we were going. We said we're not sure, but we knew it was a small place on the coast that needed our help," says Fillhart. "He said 'I know the plan God has for you, it's Bay Saint Louis, Mississippi.'"
Fillhart and her missionary group made their way to CityTeam's base at the Second Street Elementary School and, instead of staying at the makeshift distribution center, they packed up their truck and brought supplies to those in need. "On the way to the school there were these two elderly women and they were trying to carry a bag of ice between their shoulders," relates Fillart. "I couldn't stand the thought of these ladies trying to carry the ice home in 100º heat, most of which would be melted down their clothing by the time they got there!" Fillhart and her ministry knew then they had changed their location.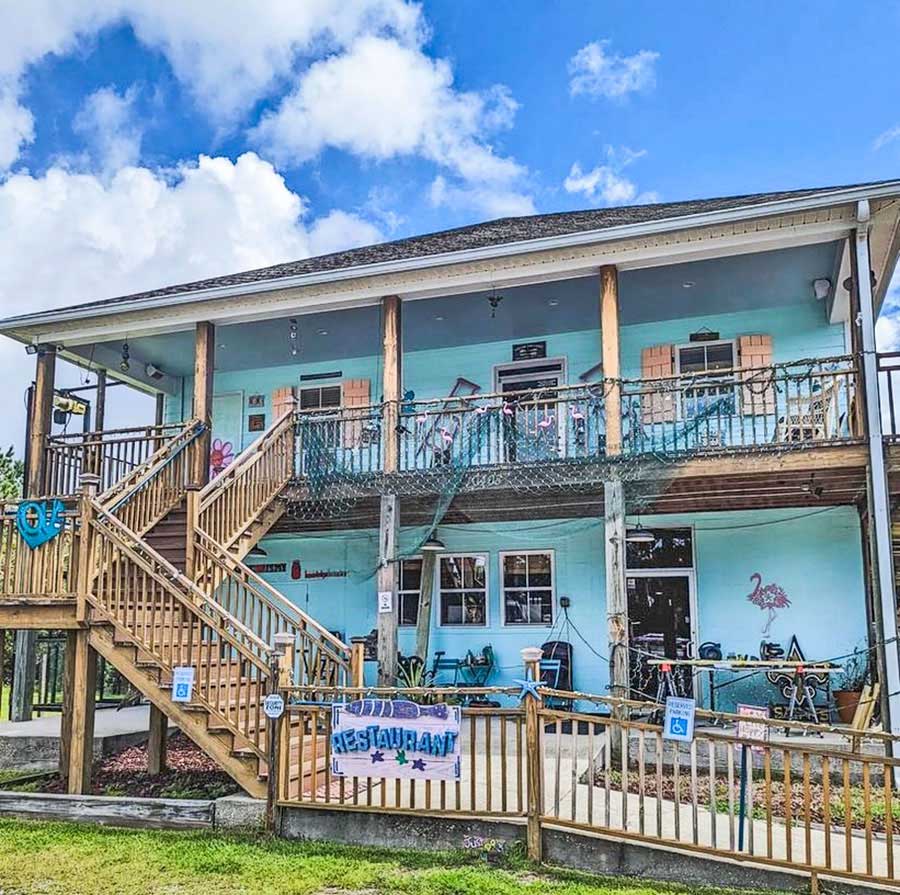 The ministry remained in Bay Saint Louis, feeding and finding shelter for those in need for several years after the devastation of Hurricane Katrina. Though need for their services was waning, there was another community outreach plan that had been forming inside Fillhart for some time. "I had this burning thing in my heart to be able to give people job skills and things of that nature," she said, "It was what I wanted to do while we were missionaries in Brooklyn, but the cost of even pondering the possibility was prohibitive." Some might call it luck, but Fillhart believes it was God's plan that helped her finally bring her resiliency plan to fruition when her ministry found the restaurant space on Main Street and allowed them to open the Starfish Cafe on June 5th, 2013.
For over 7 years, the Starfish Cafe offered healthful dishes created from locally-sourced produce and seafood to the neighborhood, but their overall aim was to create "wellness for a lifetime," by offering education in "life and restaurant skills" to those recovering from life's unfortunate, and inevitable hardships. Starfish Cafe provided revenue to fund the ministries' programs and on-the-job skills for their students, many of whom went on to bigger and better opportunities after graduating.
Everything came crashing to a halt when COVID hit. A busy, but bitty establishment, the Starfish Cafe was only 1100 square feet and with the 6ft space requirement, the cafe could only fill three tables at a time. They closed in March of 2020 and set out to find a larger space for their operation.
They found their current home at long last out on Highway 603 and reopened to the public in April of 2021. Just this month, the cafe introduced several new classes taught by people right here in Bay Saint Louis. They include a kombucha-making course led by Jackie from Honestly Beef (a cattle farm in Covington, Mississippi), a financial literacy course presented by Melissa Stapleton, and a course in emotional management led by Fillhart herself. The Starfish Cafe is also excited to announce that after the new year, they'll be offering a class in air conditioning and refrigeration that upon completion will include HVAC certification. "Zachary, my youngest son, has taken over as Executive Director. It's so exciting for me because he's going to take it farther than my brain could ever have done." With the help of a young social media manager, they've been able to steer folks in the community out to the new space and start the wellness wheel rolling once again.
*This article was originally published on October 13, 2022 in The Shoofly Magazine
*Lead image courtesy of Ellis Anderson