Housed in what used to be a specialty grocery store on the corner of General Pershing and Magazine Streets, La Petite Grocery has been one of those restaurants that I've heard people exclaim about for several years, but never got around to trying. Well, it finally happened. This past Friday, John and I visited the 6-year-old, already classic, yet still "nouveau" restaurant for my 56th cheat. I am down 73 pounds.
After stepping through the heavy, green doors my jaw dropped at the gorgeous architectural highlights in the "barroom" like detailed wall paneling that pulled my eyes towards an elegant ceiling of painted tin. These are features I never tire of, though they are common in quite a few New Orleans buildings. Despite the fact we were there for a casual lunch, I suddenly felt romantic and pictured the two of us dining here on an anniversary or Valentine's Day. John rolled his eyes and smiled at me when I grasped his hand atop the white linen covered table.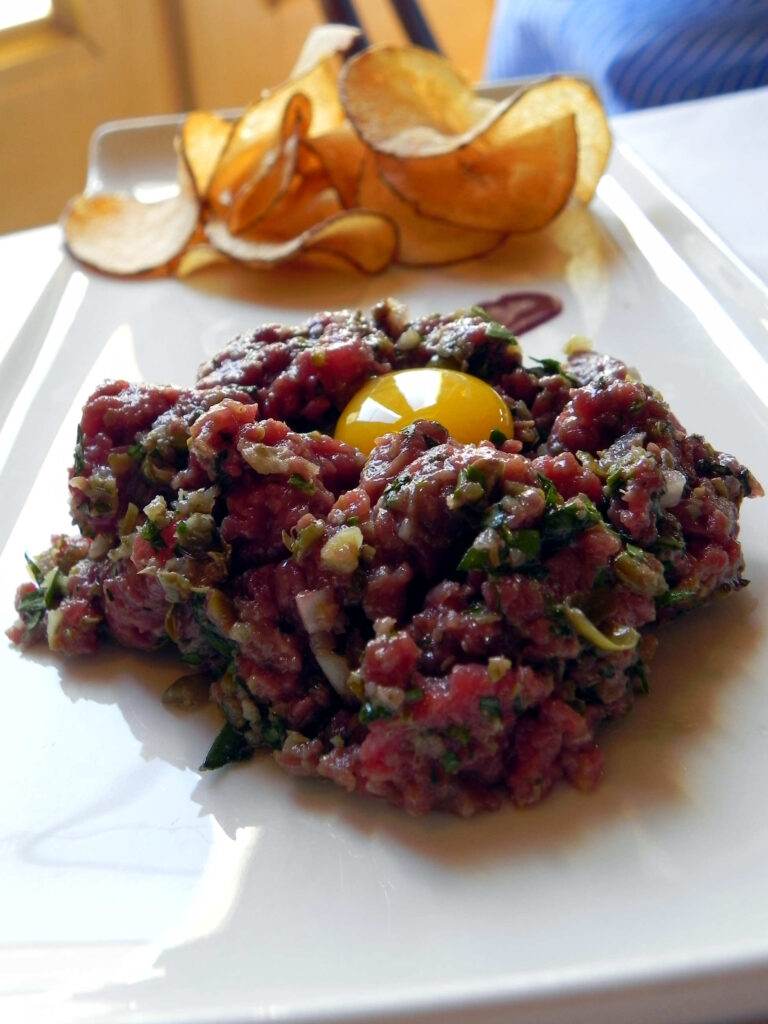 We opted for an additional appetizer in place of cocktails, oh the sacrifices we must make on a budget, and settled for a couple of Cokes and ice water. Almost immediately, our server brought a couple of beautiful, fresh rolls that were still hot from the oven and a triangular slab of hand-packed butter (fresh butter being a feature of the former specialty grocery store). The aromatic rolls were crusty and utterly fabulous smeared with a large pat of the dense, sweet cream butter.
As we licked the crumbs from our fingers, our appetizers arrived. The Steak Tartare had a bright, tangy flavor from citrus, red wine and mustard and coupled wonderfully with the creamy quail yolk nestled in the center. We quickly scooped up bite after delicious bite with the house made potato chips served alongside.
I also could not resist the Lobster Beignets served atop a French remoulade sauce. The flavor of my beloved shellfish (I'm a huge fan of lobster) stood bravely, and most unusually, on it's own. Sweet, thick claw pieces rested inside the delicately fried beignet with no heavy seasoning to mar its delicate essence. I would return to snack on those alone.
Delighted by our first course, I became anxious for our entrees. John selected the "LPG" cheeseburger draped with a gooey slice of gruyere, onion marmalade, home made sweet pickles and a huge pile of arugula. Though the greens seemed a bit excessive, I loved the sweet, eggy brioche bun against the savory beef. The accompanying French fries had a nice garlic/parmesan flavor, but were awfully soggy and oily. It seems they were dropped too early and the potatoes just soaked up the grease.
My dish of Shrimp & Grits featured perfectly cooked, large Gulf shrimp flavored with thick pieces of smoked bacon, shiitake mushrooms and thinly sliced garlic resting on a bed of creamy, stone ground grits and surrounded by a rich, lemony butter sauce. It was absolutely dreamy.
As usual, I desired to top off our fabulous lunch with an equally fabulous dessert and I was not disappointed. With glowing reviews from our server, I chose an old favorite, a S'More Tart. The shortbread shell was filled with gooey chunks of dark chocolate and topped with house made marshmallow, flamed with that familiar campfire char. The sinful tart was served with a small dollop of smooth, vanilla ice cream. Like greedy children, John and I fought over the last spoonful. Ah, romance!
John would be wise to remember my heart-felt reaction to La Petite Grocery when planning a cozy dinner for two this Valentine's Day . . . I certainly won't hesitate to remind him!