Like indulging in ice cream during the coldest winter months, it's not unusual to crave something heavy, rich and meaty in the depths of summer…even New Orleans' summers. If you want something totally satisfying, something to grin around while the sweat drips into your eyes, I can't think of anything more appropriate than a meatball sandwich.
Luckily, the Crescent City is chock-full of restaurants that serve this specialty. What with the overwhelming Italian population and it's influence on our cuisine, it would be an onerous task to find a po-boy shop or pizza joint that doesn't serve a meatball sub.
Over on Camp Street downtown a new restaurant, appropriately dubbed Red Gravy, opened up less than a year ago serving all things Italian. A born and bred Jersey girl fell in love with our fair city, packed up her family and her love of Italian cuisine and moved here to share that love with us.
Among other delicious dishes, Red Gravy serves a massive meatball sandwich they call "Mark." Just wait till you taste these homemade meatballs; a delicate mixture of pork and beef (and secret ingredients Roseann won't divulge) covered in melted mozzarella cheese and red gravy (known as tomato sauce in other parts of the world) and nestled between two buttery, toasted pieces of Binder's delicious French bread. All sandwiches come with your choice of fries, chips, fruit, potato salad, macaroni salad or cole slaw and with the addition of a soda, you'll walk out of there paying under $12!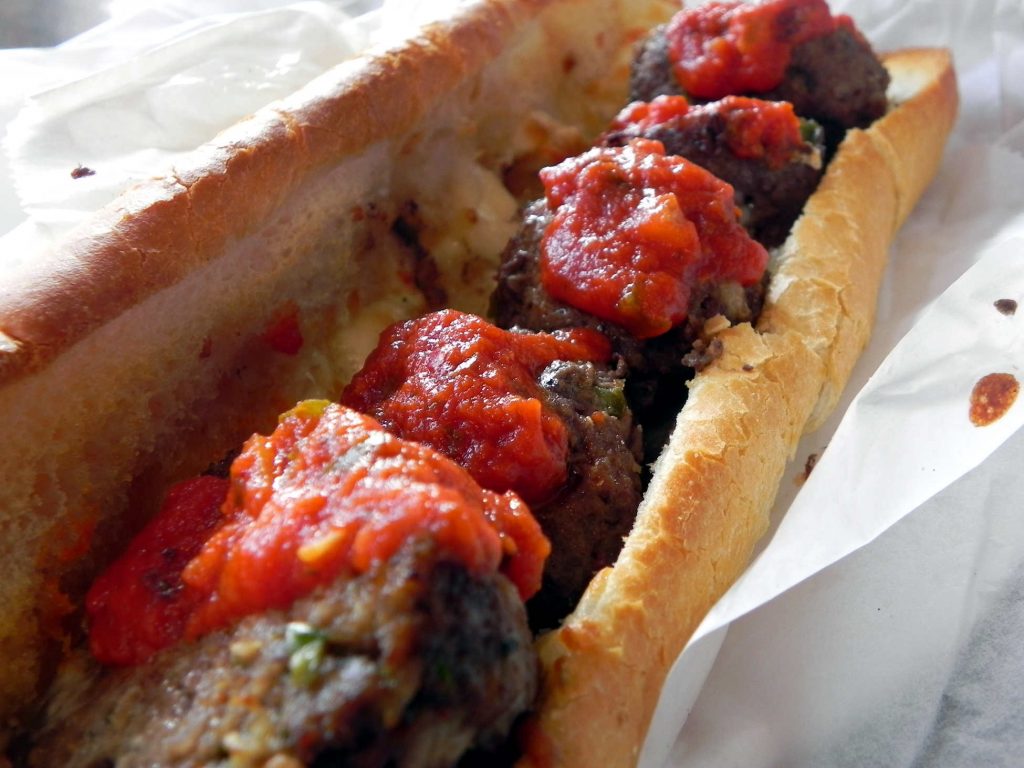 If you ever have a late-night hankering for a meatball sub…or even some really choice pizza, there's a great spot called Lazaro's on Banks Street, right next to the Banks Street Bar. You can walk in and order from Lazaro's or go next door to the bar and order there while you knock back a few beers and hear some great local music. Either way you slice it, Lazaro's offers some fantastic late-night grub.
Lazaro's touts itself as the only real New York-style pizza joint "this side of the Mason-Dixon." A few years back, local and founder Troy Lazaro decided that what this town really needed was an authentically, East coast pizza joint. For most ingredients, they support local vendors like Norjo's for produce and cheese, but they also import tomatoes and sausage from Italy.
Among simply delicious pies and other bar snacks, Lazaro's offers a meatball po-boy on toasted French bread from Philadelphia bakery, Amoroso's. The hand made meatballs are an 80/20 blend of ground beef seasoned with rosemary, oregano, garlic, Romano cheese and bacon fat (oh my!). These golfball-sized, spheres of bliss are served on toasted French bread with melted, mozzarella cheese and a side of marinara sauce, just in case you're a purist. This fantastic, meaty po-boys will only set you back $8.50, and that includes a never-ending soda.
*Article originally published in the June 2011 issue of Where Y'at Magazine
**Red Gravy is now located Uptown on Magazine Street and Lazaro's has closed