Innovative hospitality and real estate investors AJ Capital Partners in Chicago have reinvigorated the Garden District gem with design that pays homage to the hotel's illustrious past while simultaneously appealing to future generations.
Originally built in 1927, the Pontchartrain is a quintessential New Orleans landmark that has played host to personalities like Rita Hayworth, Frank Sinatra, President Gerald Ford, Truman Capote and, of course, Tennessee Williams, who actually penned A Streetcar Named Desire while residing in the hotel. Though the pomp of such distinguished guests might astound and impress someone from out of town, the Pontchartrain Hotel truly resides in the hearts and memories of locals who lovingly recall celebrating holidays and other special occasions with their family and friends, like dinning in the Caribbean Room for Christmas or spending honeymoons in one of the hotel's luxurious suites.
"The biggest surprise I've had is everyday, walking through the lobby or in the elevator, someone that I speak with has a story about the Pontchartrain." says Cody Bertone, General Manager. "For example, one time I was sitting in the Bayou Bar and two ladies walked in and just started crying. You can see it really touches people when they come back."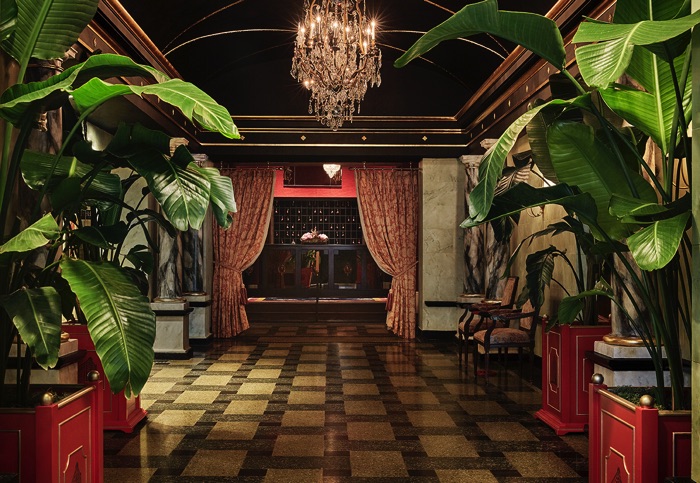 After a year-long, $10 million renovation the hotel reopened only a few months ago with 106 rooms with luxury suites, a panoramic rooftop and four "dining and entertainment emporiums" overseen by James Beard award-winning chef John Besh. The guest rooms were designed to offer a "dreamy, calming sensibility" with colors like mint, peony pink and ivy-leaf green and a mix of European and Caribbean furniture creating a homey feel. "Instead of feeling like you're in a hotel, we wanted you to feel almost like you're in one of the beautiful mansions in the Garden District … that you've been invited over to someone's home." says Andrew Alford, Chief Creative Officer of AJ Capital Partners. "The kinds of properties we love developing are out in the neighborhoods where we can provide the experience of what it's like to actually live in that city, in this case New Orleans."
Guests can sip whiskey in The Bayou Bar, legendary location of the New Orleans Saints christening, surrounded by reclaimed wood and exposed brick walls and entertained by local musicians tickling the ivories on a Baby Grand Piano, a memorable fixture from the hotel's storied past. The Silver Whistle Cafe, formerly known as the Garden District's "power house coffee shop" retains it's coveted 10-top and counter serving "grab and go" items for breakfast and lunch from chefs Kelly Fields and Lisa White at Willa Jean.
The Caribbean Room, a redesign of the most nostalgic locations in the entire hotel, is helmed by Chef Chris Lusk who seeks to evoke a true, New Orleans experience by recreating many of the restaurant's classic dishes and adding a few new twists of his own. Featuring rattan furniture and the preexisting Charles Reinike murals, The Caribbean Room is awash in warm, emerald greens and subdued pink velvet and classic wood paneling. Dishes include classics like Shrimp Saki and Mile High Pie, plus new items that "marry deep-rooted Creole traditions with modern flavors" like Waygu Beef & Beet Tartare.
The newest and most popular addition to the Pontchartrain Hotel is the rooftop bar, the Hot Tin. Formerly a penthouse, this homage to Tennessee Williams boasts a 270-degree view of the Mississippi River and downtown New Orleans. "The goal was to capture the spirit of a 1940s artist loft." says Alford, "Tennessee Williams was started off a struggling artist, what would his home look like?" Additionally, in an effort to evoke a depression era-like atmosphere, a patchwork of different fabrics and found objects accent the space, which may explain the Kama Sutra-esqe watercolor pattern on some of the curtains. "A lot of scenes in Tennessee Williams' writing had to do with sexual identity, so we wanted to play on that in an interesting, artistic way." says Alford. "We knew it would be a little controversial … potentially … but one of the great things about New Orleans is it's an adventurous community, it's part of what people love about the city."
* Article originally published in the September 2016 issue of New Orleans Living Magazine