I'm not on a mission to offend fellow writers or popular publications, but I have a problem with "listicles." Instead of well-crafted, thought-provoking articles, it seems theses days, most of what people read are just lists. No one cares how long it takes to construct the perfect sentence or pull together a piece that both educates and entertains. Very few people even take the time to read at all, let alone a full, 1000-word piece on the value of honey. There's just too much information out there, too much to absorb and too little time. Listicles tend to be what my boyfriend calls "click bait" whose sole purpose is to get more clicks, which in turn translates to more page views, which in turn translates to more advertising dollars.
Also, it seems to be what "readers" these days want and who am I to argue?
In an effort to pull my nose out of the clouds and get with the program, I've decided to try my own "listicle." Let me know what you think.
In an unabashed imitation of a Buzzfeed article I saw the other day, here are my "25 Scrumptious Things To Eat In New Orleans That Aren't Po-Boys."
With shops in both Mid-City and Uptown, this retired-police-officer-owned donut shop doesn't mess around. Although some might be all about their specialty donuts (Boston Cream Pie, Red Velvet etc.) their blueberry glazed cake donuts rock my world.
2. All Meat & All Sides from McClure's Barbecue
New Orleans, for a long time, was not a great town for BBQ, but in the years since the levee failure, 'cue restaurants have been popping up all over town, including McClure's on Magazine Street where you and a friend can feast on ribs, pulled pork, sausages, smoked chicken and delicious sides for $32.
Loaded with BBQ roast pork, egg rolls, fresh veggies and rice noodles, you could do a whole lot worse for lunch! Plus, Ba Chi's crispy pork egg rolls are second to none.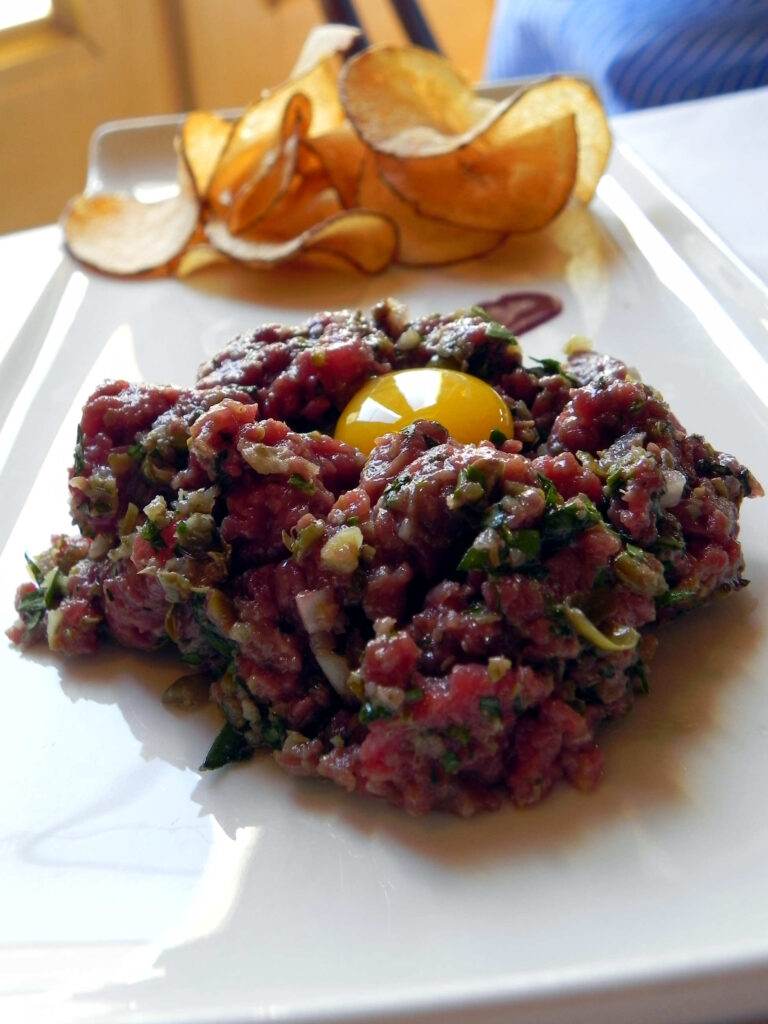 I can almost hear people turning up their nose and scoffing at this particular dish. Hey, you know what? If you've never tried steak tartare, you don't know what you're missing. If you have, and enjoy it, you shouldn't miss this particular version.
5. Truffled Manchengo Cheese Grits from Green Goddess
Buttery, cheesy deliciousness for a mere $5. Need I say more?
6.  House Ramen Bowl from Noodle & Pie 
Shoyu chicken broth, slow cooked pork shoulder, soft egg, greens, mushrooms and shredded nori make up this big bowl of comfort, but don't forget . . . there's also great pie.
7. Whole Grilled Fish from Peche
Although the type of fish and added ingredients vary from season to season, you can't go wrong with this whole grilled fish from Peche. Yes, it can be pricey, but believe you me, there'll be nothing left but bones because you'll want to inhale every last bit.
8. Mississippi Lamb Meat Pies from Oak
This swanky, Uptown wine bar offers a great wine list, creative cocktails, live music and some incredibly tasty vittles like these Mississippi Lamb Meat Pies that they serve with Crystal Hot Sauce yogurt for dipping.
9. Ham & Gruyere Quiche from Toast
Never in my life have I experienced a creamier, fluffier or more flavorful quiche (and I have been known to make quite a few of my own). Chef Cara Benson is a freaking magician.
As if fresh, bright guacamole wasn't enough, the folks at Del Fuego have taken it upon themselves to stuff you silly with the addition of chicharrones (a.k.a. cracklins), tomatoes, pickled onion, queso cotija, roasted poblanos, pumpkin seeds, bacon (because the cracklins weren't enough pork) and pickled jalapeno.
11. Cheeseburger from Trūburger
A Chef Aaron Burgau creation, Trūburger on Oak Street offers 100% Creekstone Angus Beef burgers, ground in-house and grilled to order. They also make swoon-worthy, hand-dipped corn dogs using Zweigle's franks.
12. Double-Cut Pork Chop from Toups' Meatery
Not only is this pork chop perfectly cooked and drizzled with a cane syrup gastrique, it's served with the best dirty rice in New Orleans. Chef Isaac Toups is the meat "master" and his super-sweet wife Amanda makes everyone feel like they're family.
Although there's lots of great dishes on the menu at Mais Arepas, a Latin-American restaurant in Central City, I can't help but order the Mechada almost exclusively. Slow cooked skirt steak, sofrito, maduros (fried plantains) and melted mozzarella are stuffed into a thick arepas (corn tortilla) and served with crispy plantain chips. Every time I think about this dish, I have an irresistible urge to return.
14. Crispy Chicken Wings from MoPho
They're just wings, no big deal . . . right? Wrong! It's all about the spicy/sweet sauce with accents of lemongrass and ginger. It's "mopho-ing" awesome.
15. Warm Chocolate Pudding Cake with Peanut Brittle Ice Cream from Herbsaint
It's hard to pick just one dish from Donald Link's flagship restaurant Herbsaint, but this one never fails to impress, especially when the warm pudding oozes out after your first forkful.
16. Shrimp BLT Wrap from GG's Dine-O-Rama
Whether the name is GG's Dine-O-Rama or Gott Gourmet, this particular eatery has an abundance of great food. One of my favorites is the Shrimp BLT Wrap with sauteed gulf shrimp, fresh mozzarella, Nueske's apple smoked bacon, roasted red peppers, avocado, roasted tomatoes, chili mayo and chipotle cream cheese.
An excellent spot to dine al fresco, Baru offers an array of Latin and Caribbean cuisine. One of the local favorites (and a dish they simply can't erase from the menu) is the Mazorca with roasted corn, salao cheese, "pink sauce," and crispy potato sticks. It's hard not to shovel this in your mouth at one go.
18. Gulf Fish Almondine from Patois
Every dish is wondrous at Patois, one of my all-time favorite restaurants, but this one certainly stands out and seeing it hasn't changed a whole lot since it first appeared on the menu years ago, it seems I'm not the only one who's in love. Using whatever is fresh (and appropriate) from the Gulf, this fish is breaded, pan-fried and served with roasted potato gallettes, buttered green beans and drizzled with a citrus meuniere.
Baker and co-owner Megan Foreman will blow you away with her amazing pastries and breads, made from only the finest ingredients. Anyone would be the envy of the workplace if they walked in one morning munching on this gorgeous cinnamon bun and sipping on French Truck Coffee.
20. Bacon-Wrapped Prawns from Salu
Mammoth Gulf shrimp wrapped in bacon and served in a garlic beurre monté (emulsified butter) … there's just something wrong with you if the mere idea of this dish doesn't make you salivate. Go see a doctor or just go to Salu.
21. Kurobuta Pork Belly from Three Muses
Since it's inception, Three Muses (and Chef Daniel Esses) have been serving this dish and it is still one of their most popular items. Sit back, enjoy the music and dive into beer-braised pork belly served on scallion pancakes and topped with apple chutney.
22. Crispy Hen from Mint Modern Bistro & Bar
Spicy, sweet and just downright delicious, the crispy hen at Mint is worthy of a return visit. Not to mention that you get the hen (and everything else pictured) for a mere $8.50. It's lunchtime!
23. Blackened Shrimp & Grit Cake from Boucherie
In a twist on the traditional Southern dish of shrimp and grits, Chef Nathaniel Zimet offers this stunning dish of blackened shrimp and blackened grit cakes in a warm, house-cured bacon vinaigrette.
24. Tacos Al Pastor from Cowbell
Chef Brack May not only offers a fabulous, grass-fed beef burger at Cowbell, he never fails to show off his native-Californian love for Mexican cuisine. Case in point, his sinful Tacos Al Pastor with achiote-rubbed pork, queso fresco, arroz verde, black beans, charred pineapple salsa and corn tortillas.
Pastry chef and co-owner Ziggy Cichowski never fails to dazzle, showing off his extensive skill in bread-making and pastry crafting at Maple Street Patisserie. I mean, just look at this blueberry muffin! It's almost as big as my head, but certainly not bigger than my stomach!
*P.S. This list barely scratches the surface of the incredible food to be had in our beloved Crescent City.
*P.S.S. I was going to do 35 dishes (like the Buzzfeed article), but I got lazy.
*McClure's Barbecue, Noodle & Pie, GG's Dine-O-Rama, and Salu are all closed. Truburger is under new management/ownership.