When I first considered writing a cocktail blog, it seemed a fairly simple task. I mean, how difficult is it to lounge around a different bar each week for a few hours, taking pictures and enjoying a couple of exquisitely made cocktails? Describing the flavors and ingredients of a cocktail should be infinitely simpler than say book or dining reviews, shouldn't it? Well? Shouldn't it?
I never thought going out for a couple of drinks on a Wednesday afternoon could amount to a grand lesson in New Orleans history, but I suppose I should have known better, especially when my random-meter* selected the Victorian Lounge at the Columns Hotel.
Overlooking St. Charles Avenue, the Columns Hotel is a majestic structure the captures that Southern essence with its grand porch and large columns bringing to mind something out of Gone with the Wind. But it hasn't always looked that way, a hurricane in 1915 necessitated major reconstruction that drastically altered the front of the house which used to feature a tower and arcades. In 1883, a famed local architect by the name of Thomas Sully (his father was the famous painter) designed the house as an Italianette chateau commissioned by cigar tycoon, Simon Hernsheim.
When I had the opportunity to do a little research on the property, I happened upon a wealth of historic information posted by what I thought to be an odd source, the New Orleans Bar Association. Ned Hemard wrote (or still writes?) a weekly column called "New Orleans Nostalgia: Remembering New Orleans History Culture & Traditions." Hemard's piece on the Hernsheim House proved highly educational, especially for someone like me who is a new student of New Orleans history.
For example, did you know that New Orleans was the nation's cigar capital from the 1880s to the 1930s? Did you also know that three of S. Hernsheim Brothers & Co.'s most popular cigar brands "La Belle Creole", "Jackson Square" and "El Belmont" gained international renown for their quality? Or that Simon Hernsheim and his brothers erected the immense five-story La Belle Creole Cigar & Tobacco Factory on the corner of Magazine and Julia Streets which has been renovated and is now occupied by the firm of Deutsch, Kerrigan & Stiles? I found all of this endlessly intriguing…even the more morbid, yet scandalous account of Hernsheim's suicide by cyanide.
But none of this history will help me write this cocktail blog…will it? I mean, when mounting the grand staircase to the massive porch, I certainly felt the grandeur, but had no idea of the scope. We couldn't help but be awed by the elaborate wood moldings on the walls and ceiling of the bar, but it was rather warm outside and we were focused on consuming cool refreshments while our beautiful surroundings seeped into our bones. The romantic atmosphere worked quickly upon my senses and before I knew it, we were ordering the classics. When in Rome…right?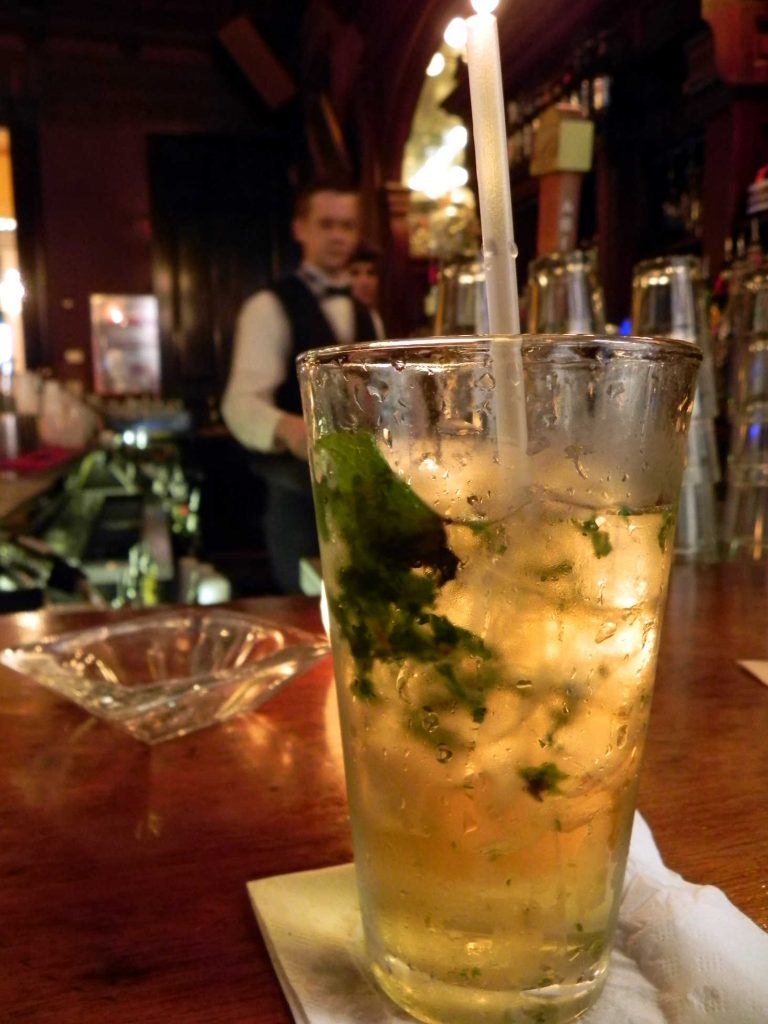 I ordered an Old Fashioned and John opted for a Mojito. Due to the blessedly heavy-handed pour of our bartender, we also decided to try a small appetizer from the hotel's restaurant. The nibbler served two purposes; enabling us to sample from the hotel's bistro and, more importantly, so we could order another drink. Although small, the BBQ Shrimp and Grits were delicious and John and I almost licked the plate before the bartender took it away.
We quickly recouped from our loss and ordered another round. This time, I decided to try the Mint Julep and John chose the ever-classic Sazerac. All of the cocktails were simply outstanding. Although our bartender was young, he had no difficulty whipping out the fresh mint and mixing quality liquors into a perfect cocktail. He confided that his skill came from thousands of tourists requesting those specific cocktails seeking to more fully experience the "flavor of the romantic South" already aroused by the hotel's general atmosphere.
Apparently, writing a weekly cocktail piece requires far more depth than I expected, resulting in a rather long (and not at all succinct) blog. Can you blame me?
*My bar and restaurant selections are decided by my "random-meter" which is based on the weather, cravings, suggestions from friends, the phases of the moon and my general mood that can change from day to day, hour to hour and even minute to minute.