After my birthday blowout last week, we desperately needed to tone it down a bit financially. Thankfully, I was hankering for a relaxed, neighborhood vibe with home cooked meals and a very casual atmosphere and suddenly I remembered that I still hadn't tried Liuzza's Restaurant & Bar.
A long-standing, local favorite, Liuzza's, on the corner of N. Telemachus and Bienville Streets, has been a Mid-City go-to spot for over 60 years. My friend Dani, who accompanied us on this excursion, told how her father often brought her to Liuzza's when she was a little girl and treated her to big cups of soda and piles of fried pickles. It sounded like the perfect spot for lunch.
We cruised in late, a little after one, and easily found an available table. We were served sodas in huge, chilled, thick glass goblets, sans ice, while we made our selections from a very large menu offering everything from seafood po-boys to spaghetti and meatballs. It reminded me of many other neighborhood restaurants in New Orleans with a heavy mix of Creole, Cajun and most definitely Italian influences.
Our appetizers came out and, since we were all quite hungry, we set to with a will. The crispy, perfectly fried pickles were hot and delicious, just like Dani remembered. I also had to try a cup of their red beans which turned out to be very tasty indeed.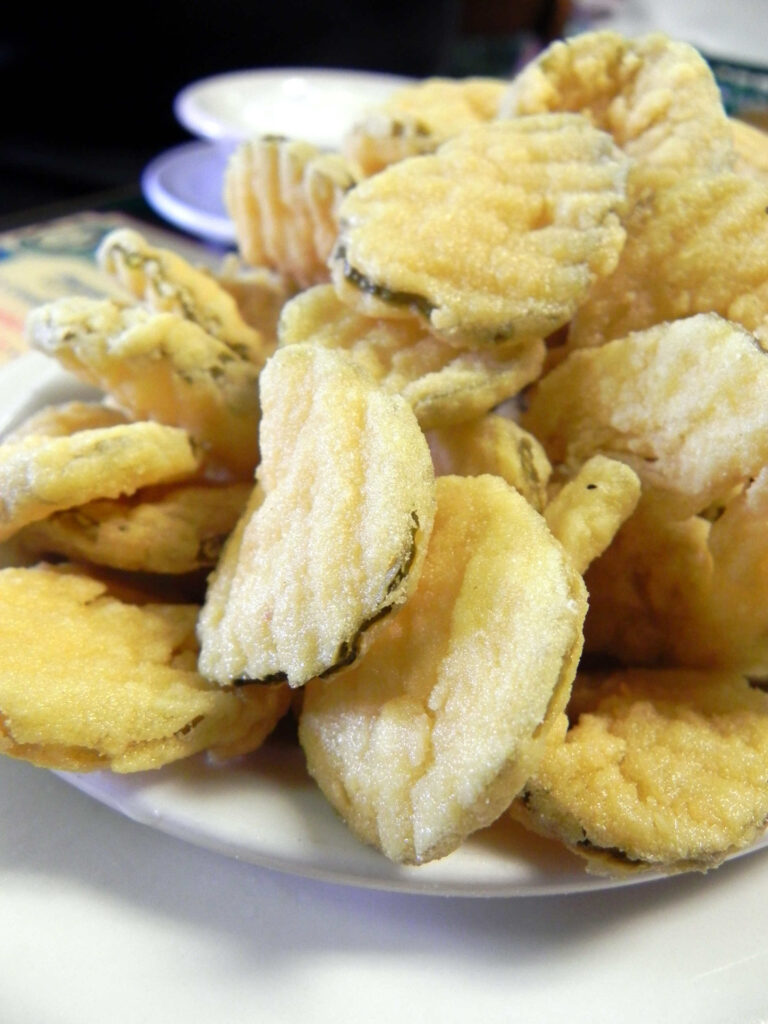 We were also served thick slices of toasted garlic bread, but I actually managed to lay off of it this time, in anticipation of what I knew was going to be a rather large entree.
Dani ordered their lunch special, 1/2 of a fully dressed, sauteed shrimp po-boy with a cup of cream of shrimp and artichoke soup. I only got a taste of her soup which was thick and creamy, quite heavy and rich with lots of cream and butter.
John opted for a veal Parmesan po-boy, fully dressed of course, with thin, breaded and fried strips of meat, rich red gravy and provolone cheese. It was a huge sandwich spilling out goodness every which way, but John managed to inhale half of it before he called it quits.
I chose another special sandwich, a fried green tomato po-boy with sauteed shrimp and lots of creamy, tangy Remoulade. The tomatoes were perfect, crisply fried and the sauce put me in fat girl heaven. I would have liked a bit more shrimp, but all in all, it was a decadently delicious sandwich. We all needed doggy bags at the end, even Posie who ordered off the kid's menu and got a burger as big as her head.
Though we were all having difficulty breathing, I had to order dessert. We all agreed on the peanut butter pie that, when it arrived, had a huge layer of whipped cream easily three times the thickness of the pie…not that I'm complaining! It was cool, tasty and a perfect end to our lunch.
I firmly believe that lunching at Liuzza's took me one more step away from "transplant" status and one step closer to living like a real-live local…