When I met Kristen Essig at a wonderful ladies' luncheon at Kingfish, she had just accepted her new position as executive chef and asked me to wait about a month before coming to taste her revamped menu at Sainte Marie Brasserie. I did exactly as she requested and only six weeks later visited the restaurant at 930 Poydras, an intimidating, yet stunning structure Kristen fondly dubbed the "Death Star."
John and I were immediately seated when we walked into the restaurant, even though I had neglected to make reservations. We started off lunch with a couple of cocktails, John opting to indulge in his usual Sazerac, while I selected a delectable drink called a "Sighting at the old iron yard" which featured Rougaroux Aged Rum, Licor 43 (a Spanish citrus-based liqueur) and Hoodoo Chicory Liqueur.
We were feeling a pleasant buzz by the time our appetizers arrived. John and I always share everything, but our preferences are our own, regardless of what he might say otherwise. I chose the Tuna Tartare that was perfectly molded together with some avocado mash and topped with pickled daikon and carrots. The dish was served with crisply fried won ton wrappers that we used to scoop each delicious bite into our ravenous maws. I ate almost half of it before I slid my plate over to share with John, but I was anxious to try his Fried Oyster Salad. It was simple, yet satisfying plate of julienned green apple, fresh watercress and more avocado mash hidden underneath.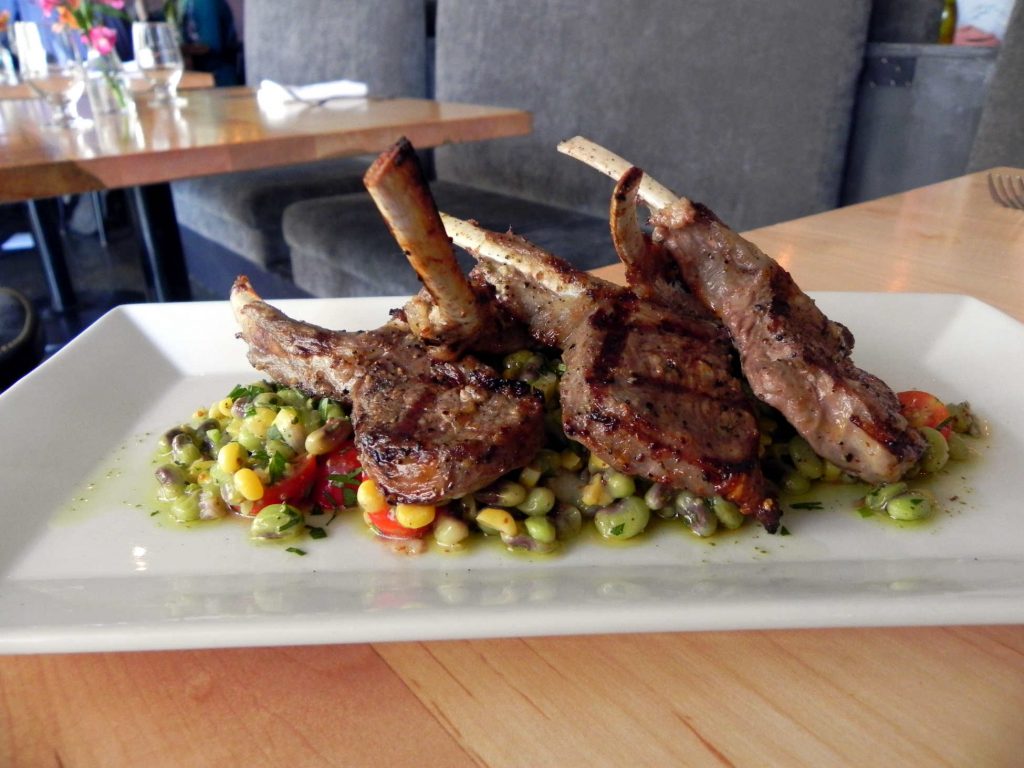 Our entrees arrived just as we were finishing. We both chose the day's specials, John opting for a seared drum served in a lemony butter sauce atop risotto and I got the New Zealand Lamb Rib Chops, the bones crisscrossed atop a mound of purple hull peas, fresh corn and halved cherry tomatoes. Both dishes were so bright with the flavors of each ingredient showing strong on the palate. John and I had no difficulty gobbling it all down and I found myself gnawing on the bones, making sure every scrap of perfectly grilled lamb flesh would not go to waste.
We were incredibly full, but I couldn't leave without ordering dessert and chose to sample the Vanilla Crème Brûlée with honey, brown butter madeleines. The crème brûlée was absolutely perfect with a crisp, sugar crust that offered a satisfying crack when my spoon broke through to the light, creamy custard underneath. Much to our surprise, Kristen came out of the kitchen with a Pot de Creme with chantilly cream, claiming there was no way we could finish our lunch without some chocolate. Like everything else before it, the dish was scrumptious, rich and creamy and even though we were full, we managed to find a bit of extra room to polish off both desserts. We couldn't thank her enough.