Crispy on the outside, soft and savory on the inside – served with a side of tahini or wrapped in pita to be devoured with bright, fresh veggies – falafel is one of those rare foods that are equally satisfying, healthful and indulgent all at the same time. It's a Middle Eastern "street food" chock full of protein, fiber, calcium, and magnesium all rolled up in a fabulous, fried ball.
While its origins are a topic of much debate (just Google "Falafel Kerfuffle"), most food-focused folks believe the falafel was born in Egypt sometime in the 1800s, and over the years its popularity spread to other countries including Israel, Jordan, Lebanon, Palestine, Syria, Turkey, Iraq and Bahrain. Regardless of its birthplace, the fabulous falafel made its way west and interestingly enough, given its purely vegan ingredients, is beloved by most everyone.
Though it's true people rarely flock to our city to enjoy falafel, the Arabic and Israeli community in New Orleans is certainly not negligible as is evidenced by the proliferation of Middle Eastern restaurants. One would not be stretching to estimate at least one Middle Eastern restaurant, and as many as five or more, exist in each and every neighborhood.
Just take for instance Mona's, a 33-year-old Lebanese restaurant and grocery in Mid-City, which was formerly a local chain dotting the entire area. Now down to one location, Mona's is a true New Orleans staple and a go-to for legions of local denizens craving falafel. At only $6 per plate ($7 for the sandwich), the ground chickpea and herb fried patty meal is a tasty steal.
Over in the Bayou St. John, restaurateurs Theresa Galli and Gavin Cady have only been flinging falafel for a decade, but their brick and mortar restaurant 1000 Figs has quickly become a local favorite. Located just off Esplanade Avenue on Ponce de Leon, the tiny, communal-style spot offers a menu that feels both wholesome and comforting with lacto-fermented veggies, brilliant Brussels sprouts, kale and cabbage salad, and roasted seasonal vegetables, but the star of their show will always be the falafel. The dark crisp exterior gives way to an almost delicate, bright green-hued interior made with ground chickpeas, parsley, fresh coriander and garlic. A plate of four falafel served with nutty tahini, tangy zhoug and garlicky toum will only set you back $5, a sandwich with cucumber salad and pickled veggies (with all three sauces) is only $7.50, and an entire platter with salad and fresh bread is a mere $13.
How could we talk about falafel and not mention Falafel King? With locations in Kenner and Metairie, Falafel King is a relative newcomer to the scene, opening their first shop in 2016. Among the plates of kebab, kufta and shawarma are the restaurant's namesake, deep fried spheres of ground chickpea-based falafel, a platter of which (with rice, pita, baba ghanouj and hummus) rings in at $14.99. Or if you like, you can opt for their version of a falafel sandwich wrapped in flatbread with tahini, tomato and lettuce (add fries and a drink) for only $10.99.
Though the James Beard Award-winning restaurant Shaya is on the higher end of the affordability spectrum, it's still entirely possible to enjoy their falafel and stay under budget. Featuring Israeli cuisine which draws "influence and inspiration from North Africa, the Middle East, Eastern Europe, Turkey and Greece," the Uptown restaurant offers a plate with four chickpea falafel, pickled cabbage, tahini, and harissa for $14.50 or you can opt for a falafel sandwich wrapped inside their oft-raved about, house made pita for $17.50.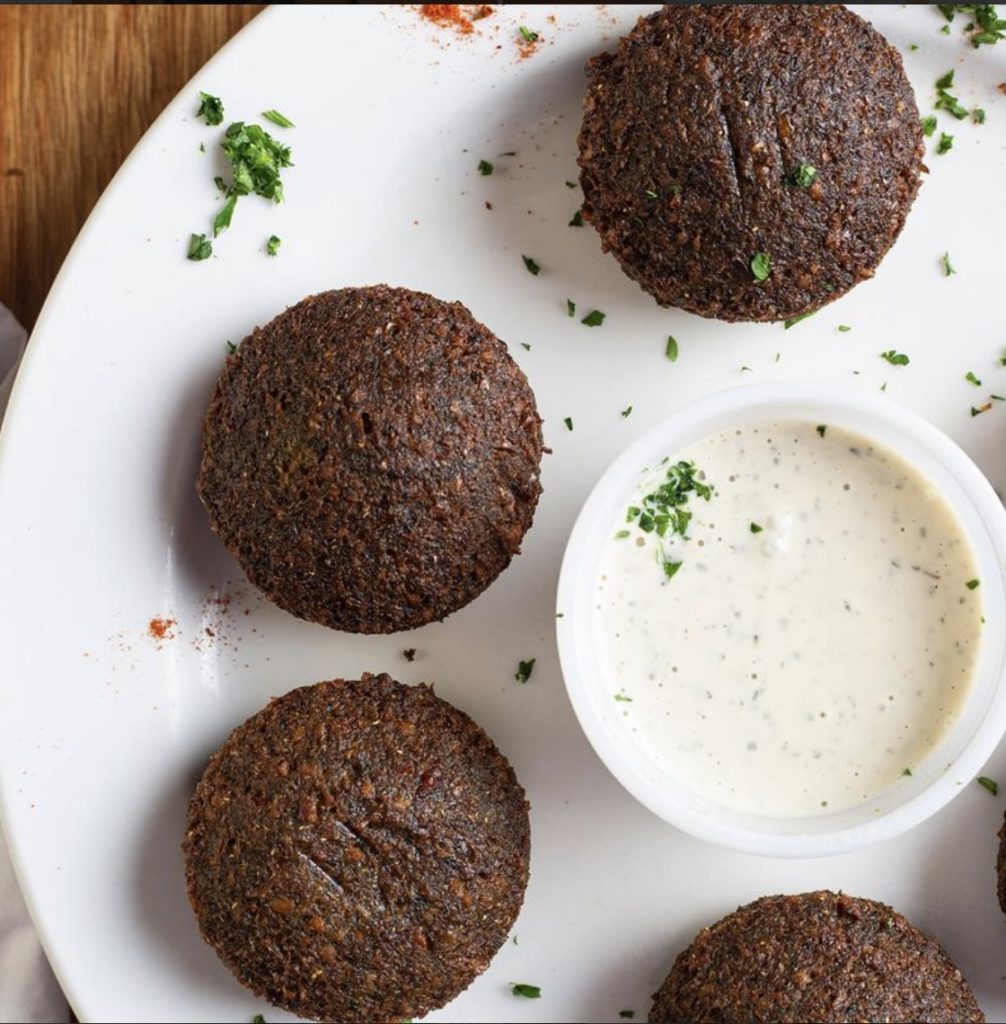 Located in a space that has a history of housing Middle Eastern restaurants, the Green Olives Cafe on Maple Street in the Riverbend is the latest and greatest incarnation. The restaurant was launched in September 2020 by owner Hilmi Abdeljalil, a veteran in the New Orleans restaurant industry who worked at Mona's and once owned the now-defunct Pyramids Cafe. Though their chef, Hilmi, was unwilling to divulge his falafel recipe, a family secret from his relative who is known for making some of the best falafel in Jerusalem, we do know it is made from chickpeas and fresh herbs with no additives or fillers, but the true secret is in the spices. Their chickpea-based falafel sandwich which comes with a choice of salad, French fries, baba ganuj or labneh is only $8.99, and the platter is only $16.99 and comes with two sides like basmati rice, hummus or baba ganuj.
In the search for affordable, takeaway falafel options, Tal's Hummus should not be overlooked. Located on the corner of Magazine and Bordeaux, right across the street from Le Bon Temps, the cozy Israeli street food cafe offers crisp, gluten-free, "green" falafel hand made from ground chickpeas, garlic, herbs and "special spices," which is cooked to order. Hungry patrons can opt for a green falafel pita sandwich with hummus, salad, s'rug (a coriander hot sauce), tahini, and pickles for $13 or you can go in a slightly different direction and drop $11 on the falafel burger which includes a large falafel patty. Either way, you still have enough left over for a side of their hand cut fries.
As previously indicated, there are many, many . . . many more falafel purveyors around town, but we're finishing this round up with one honorable mention. Though it will not always be on the menu, seeing as such is left up to the caprices of Chef Pete Vazquez, the Appetite Repair Shop in Algiers Point will frequently offer "Emir's Middle Eastern Platter" which features hand made, Egyptian-style falafel (ie. made with fava or broad beans as opposed to chickpeas), hummus, eggplant salad, fresh cucumbers and tomatoes, olives, flatbread and hot pepper sauce. The platter will always come in under budget (around $15) and it is a falafel feast fit for a king. Interestingly enough, it is the only fava bean falafel we've discovered, but surely there's more out there somewhere!
*Article originally published in the January 2022 issue of Where Y'at Magazine
**Lead image courtesy of Shaya