How do I know things are getting better? Because I spent another extraordinary day judging dishes for the New Orleans Wine & Food Experience culinary awards! Being the cash-poor food-lover I am, this unique experience allows me to hang out with other food-oriented folk like myself and sample some of the best cuisine this city has to offer.
There were three days of judging, but I was only able to attend one of those days and it was a stellar lineup nonetheless. While I don't want to ruin all the fun for Grand Tasting ticketholders raring to imbibe and feast the days away on June 11th & 12th, I would like to share a few highlights.
To be perfectly honest, everything I tasted that day was incredible, which makes judging so hard! But, one undeniable standout was the Brandied Cherry Pie from Windowsill Pies. Owners/bakers Marielle Dupre and Nicole Eiden blew us away with their confection. A pie like none I've ever tasted, the filling was a slightly boozy, brandied cherry but the crust, oh the crust! It's a tender, flaky, buttery-sweet, almost melt-in-your-mouth confection. Also, since we got these little sample, bite-sized pies fresh from the oven with a higher crust to filling ratio . . . it was downright dizzying. I think they should offer these at their tiny, Freret Street storefront on the regular.
Another decadent delicacy was the dish presented by Chef Valeriano Chiella at Domenica. It was a most satiating morsel called Smoked Scallop Carpione (a Northern Italian preparation of fish stored in wine and vinegar – I had to look it up), with battarga (cured fish roe), Calabrian chili and preserved lemon. This mouthful was packed with so much flavor, I probably couldn't have eaten much more that what was offered. One more bite? Okay, who am I kidding, I could've had at least three.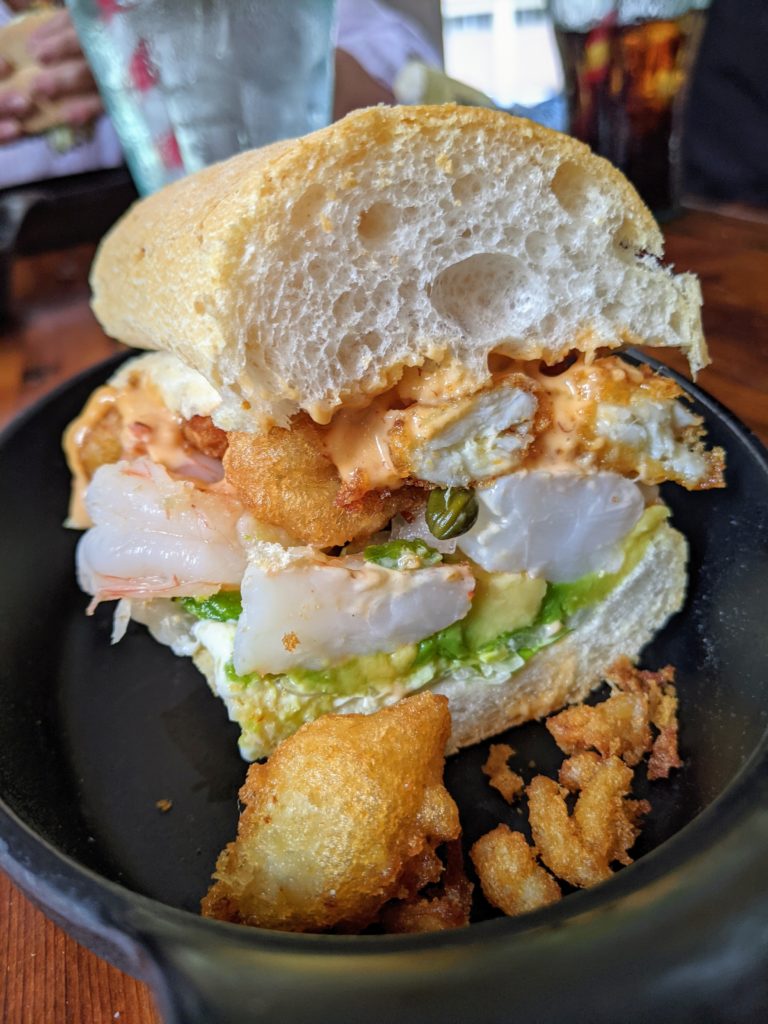 Finally, the last dish I want to mention is the Shrimp, Avocado & Blue Crab Louie Po-Boy from Chef Casey Levy at Mahony's Po-Boys & Seafood. Poached and chilled Gulf shrimp is piled high with beer-battered and fried lumps of blue crab, avocado and "Louis" sauce (a.k.a. Thousand Island dressing) on crusty, Leidenheimer French bread. Like the bite-sized pies at Windowsill, this delicious po-boy should be a regular item on Mahony's menu, but maybe like NOWFE, we'd take it for granted if we could have it everyday.