When Superior Seafood & Oyster Bar opened about seven years ago in the old Copeland's building, I was one of the first to check it out. I loved their Frozen Pomegranate Mojitos, BBQ shrimp, raw Gulf oysters, warm French bread and Shrimp Louie Salad. Over the years, I've dined there many times and usually with good results.
Craving oysters, my friend and I thought Superior Seafood would be a good spot since Casamento's isn't open for lunch on Tuesdays, the French Quarter was a nightmare due to one convention or another and I'd enjoyed previous lunches. Our hostess and server were polite, cordial and efficient and we were quickly seated near the windows facing St. Charles Avenue and served drinks.
Since I'd had delightful Gulf oysters from them in the past (and this IS New Orleans, for pity's sake), we had no qualms ordering a dozen raw and a dozen char-grilled with "garlic, herbs, butter and Parmesan and Romano cheeses." We also ordered a steak salad to split.
Now, I've eaten tons of Gulf oysters and I know the flavor isn't as briny as the East Coast variety or sweet as some in the Pacific Northwest, but they do have their own salty goodness that keeps me slurping again and again. When the server brought out our dozen, we ogled their beauty and I took a few pictures, but we dove right in. Because I longed for a pure taste, my first oyster was a "virgin," with no Crystal Hot Sauce or horseradish. I just opened wide and let that chilled mollusk slide right into my mouth … only to taste absolutely nothing. No salt, no brine, no nothing. I may as well have enjoyed some slightly chewy water.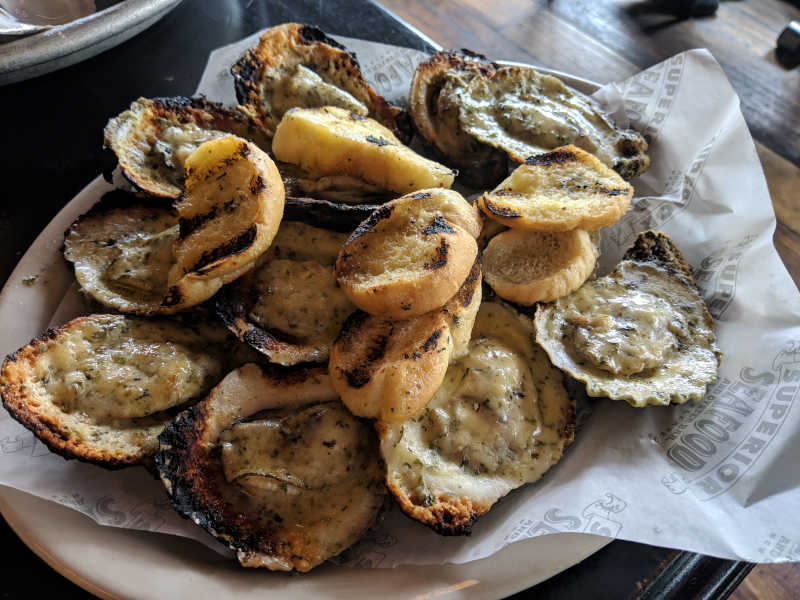 Not to be deterred, I tried the next one with a little horseradish and hot sauce, and that's pretty much all I tasted — horseradish and hot sauce. I glanced at my friend and she was wearing a small frown, reflecting my own reaction. We both suspected that the oysters might have been rinsed with cold water, washing away all that lovely liqueur.
I queried waiter about whether the oysters had been rinsed after being shucked and she didn't know and only apologized for our apparent disappointment. "Oh well," I thought to myself, the char-grilled oysters should make up for it.
Nope. I can't conceive how a Gulf oyster with "garlic, herbs, butter and Parmesan and Romano cheeses" could be flavorless, but they were. They were chewy hunks of sadness, filling my belly but not even coming close to satisfying my craving for oysters. For several minutes, I thought something was wrong with me. Did I have a cold? Are my allergies acting up? Did my taste buds die in the last hour? But my dining companion was just as disappointed as I was.
As a restaurant that touts themselves as an "oyster bar," they should be ashamed that the steak salad was the best dish we had.